An elderly couple have been taken to hospital after an explosion destroyed their house.
Emergency services were called to Murdiston Avenue in Callander, in the Stirling area, just before 6am on Thursday when it is thought a gas leak caused the explosion.
Marianne Cunningham, 74, was taken to Forth Valley Royal Infirmary with minor injuries before being discharged. Her 77-year-old husband, Robin, was airlifted to Glasgow Royal Infirmary by helicopter where he is in a stable condition.
Nine houses in Murdiston Avenue and nearby Aveland Road have been evacuated and Stirling Council has set up a rest centre in the town. Once what is left of the Cunningham's house has been made safe, neighbours will be allowed back into their houses. This is expected to be later on Thursday night.
Neighbour Alistair Allan, who lives across the road, said the Mr Cunningham was trapped under rubble by the explosion.
He said: "We were all woken up by this almighty bang. I looked out the window and the house across the road was on fire.
"I ran across and the elderly gentleman was under rubble, I think in the kitchen, and his wife was in another part of the house. I could hear her calling out for help, she was saying 'I can't take it any more'.
"The firefighters were there very quickly. They got the woman out through a window and I think the man was out after about 15 or 20 minutes.
"My daughter came in last night about 8.30pm and said there was a strong smell of gas in the street but we didn't think anything of it at the time."
Chief Inspector Russell Penman said: "We received a call at 5.45am from a resident in the street who had reported an explosion at the house.
"We attended along with the fire service within five to seven minutes and the fire service extracted the two occupants of the house and then evacuated the residents in the surrounding houses.
"I believe the elderly female casualty was in the bedroom and the elderly male was on the right- hand side of the property which has been damaged. He was trapped and had to be removed by the fire service. We had to use the services of the helicopter to take him to the hospital at Glasgow and the woman to Forth Valley Hospital.
"We are working with Scottish Gas Network, Scottish Power, to make the scene safe, health and safety executives, Stirling Council building control, health and safety the fire service and the ambulance service."
Denis Kerby from Scotland Gas Networks said an investigation is under way into the cause of the explosion.
He said: "Engineers are on site and they have made safe the gas supplies. We are carrying out a full investigation to establish exactly what happened. There is no danger to other households or other members of the public."
Engineers have not found any problems with the gas supply outside the home but said it was too early to be sure what caused the explosion.
A rest centre has been set up by Stirling Council and the British Red Cross to help residents who have been evacuated from their homes.
Donald Park from the Red Cross said: "Our volunteers, who are all specially trained, are on hand to offer emotional support to those evacuated and to look after their general welfare till they are able to return home. Amongst other things, we have been liaising with GPs and pharmacists in the town to organise supplies of prescription medications for those who need them but had to leave them behind in the emergency evacuation."
Trossachs Search and Rescue Team had been called to the house by Central Scotland Fire and Rescue Service to help locate the couple.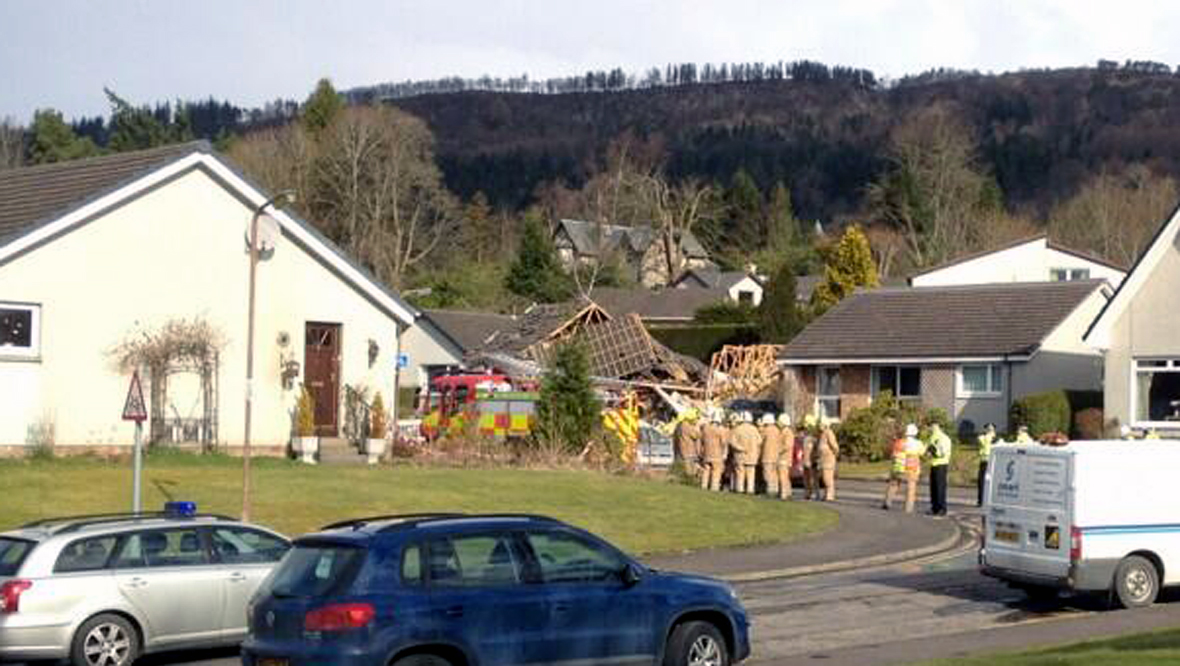 © George Johnson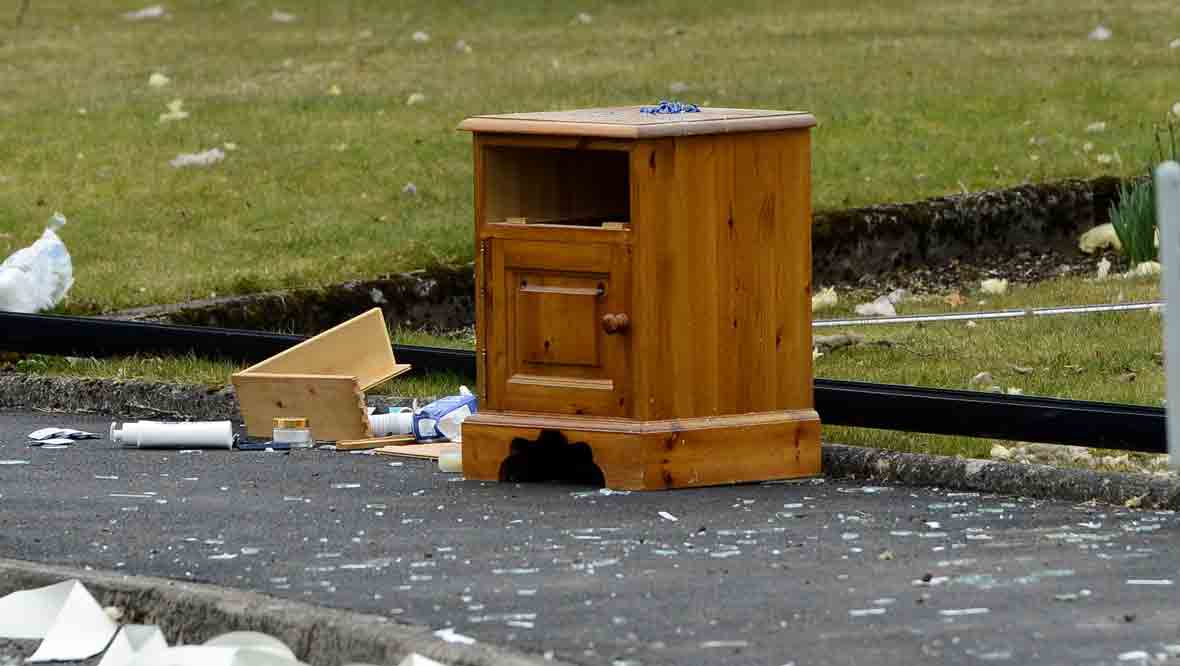 © SWNS
© SWNS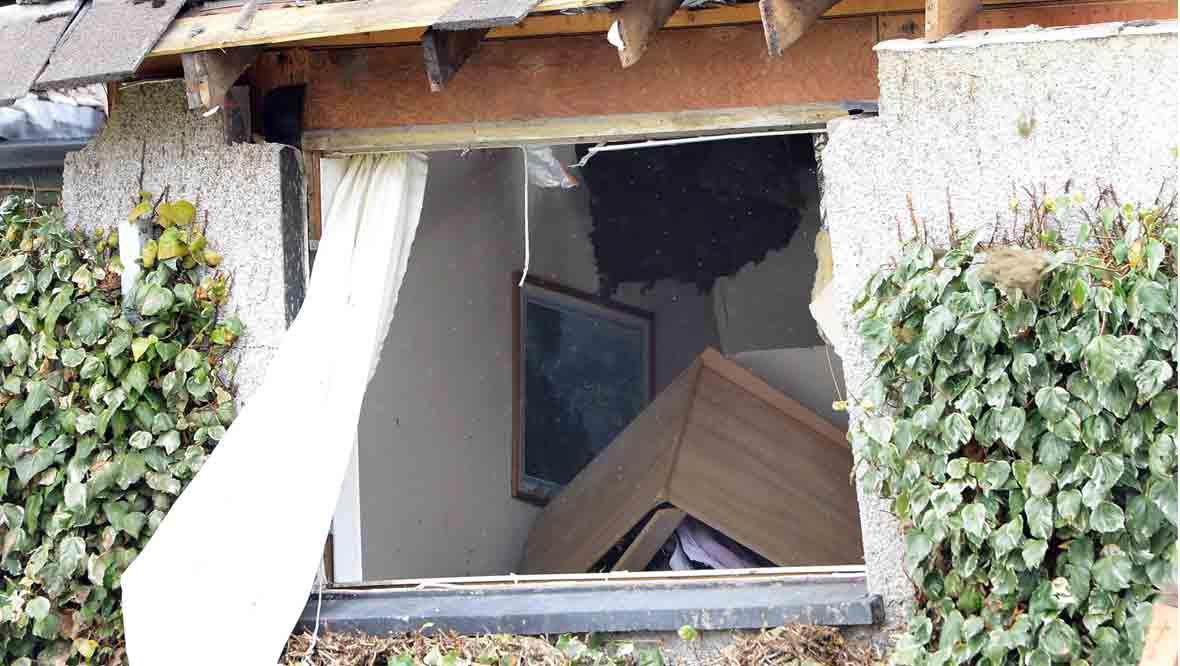 © SWNS

View Elderly couple in hospital after 'gas' explosion destroys house in a larger map
Your report: If you have information on this or any other story, please let us know. You can send information, pictures to web@stv.tv or call us on 0131 200 8085.
Feedback: We want your feedback on our site. If you've got questions, spotted an inaccuracy or just want to share some ideas about our news service, please email us on web@stv.tv.