Dalziel end season with a defeat
Highest league finish in 20 years for Motherwell rugby stars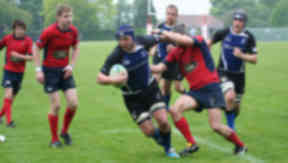 Haddington 27-25 Dalziel
Dalziel travelled to Haddington for their last game of the season hoping to end the seasonon a high. They started brightly and looked intent on playing running rugby.
Two early penalty attempts were dismissed when full back Robert Simpson opted to go for touch instead of points, however, both kicks were put dead in goal and resulted in scrums for Haddington.
Haddington, instead, were gunning for the win and at the first opportunity went for goal after a Dalziel infringement.
Flanker Ryan Alderman stepped up to put the ball over. Dalziel responded almost immediately when, from the kick-off, Crawford Reid gathered the ball and set up a ruck.
Haddington came in from the side and Dalziel were award the penalty. Simpson pulled Dalziel level from the tee.
Haddington weren't level for long and from a series of rucks managed to pull the Dalzielback line in to create an overlap for second row Quinton Caulfield to score in the corner.
There was a sense of déjà vu at the kick off when Haddington again infringed with acynical block on James Baxendale after a Graham Calder chip. This allowed Simpson toreduce the gap to two points with another penalty.
On the 30 minute mark, Haddington infringed again and the referee lost patience, sendingCaulfield to the sin bin for the remainder of the half. The extra man allowed Dalziel spaceoff a line out to spread the ball wide to Simpson to score in the corner.
With the conversion missed, Dalziel had a 11-8 half time lead. The first 15 minutes of the second half was a period to forget for Dalziel as Caulfield completed his hat trick and his second row partner Laurence Lappin also getting in on the scoring action to achieve the try bonus for Haddington.
Alderman converted two to take thescore to 27-11. Following Scott Johnstone's début the previous week at Morgan, 18 year old David Irvine entered the field of play for his First XV début in place of George Sloan.
Irvine looked solid against a vastly more experienced player, enforcing a similar performance for the Second XV a few weeks previously against Scottish Cup Champions Ayr.
Dalziel began battering the Haddington try line, by running every penalty opportunity.Haddington were struggling to contain Dalziel's quick play, which was putting their defenceout of place.
Skipper Craig Simmonds noticed a mismatch to power over for Dalziel's second try. Scrum Half Ross Donnachie converted.
Dalziel continued the onslaught and began a series of pick-and-go's which culminated inIrvine scoring his first try for the First XV from short range. Donnachie again converted.
That was the final act of scoring, despite Haddington being reduced to 14 men for the final 10 minutes of the game after Caulfield was sent off for a second yellow card, Dalziel were unable to find a way through.
This completes Dalziel's first season in Premier 3 with them finishing in seventh place,their highest finish for twenty years.
With the Second XV finishing fourth in NationalReserve League 2 and the Third XV winning Reserve League West 3, the club can lookforward to an exciting season next year where promotion to Premier 2 should be theultimate goal.
Dalziel RFC Les Barclay, Stephen Baird, George Sloan, Craig Lewis, Kris Watters, Crawford Reid, Gavin Armstrong, Craig Simmonds, Ross Donnachie, Graham Calder, Scott Johnstone, James Baxendale, John Harris, Lee McWhinnie, Robert Simpson. Subs David Irvine, Eddy Ferguson, Euan Stewart, David Aitken.