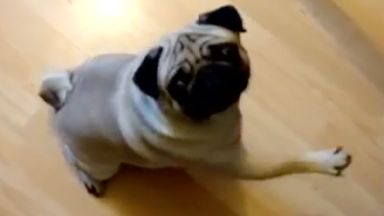 Jewish leader's 'flood of abuse' over Nazi dog YouTuber
Mark Meechan was convicted after uploading M8 Yer Dugs a Nazi to YouTube.
NEWS
Chris Foote
A Jewish community leader who testified against a YouTuber who filmed his girlfriend's dog performing a Nazi salute says he has received a torrent of anti-Semitic abuse.
Free speech campaigners have condemned the decision to prosecute Mark Meechan for uploading a video of the pug's performance to YouTube.
His defenders also include comedians Ricky Gervais and David Baddiel, as well as former English Defence League leader Tommy Robinson.
Meechan, from Coatbridge, claims to have "no ill will towards the Jewish community" and described the video as a joke.
However, Ephraim Borowski, director of the Scottish Council of Jewish Communities (SCoJeC), said Meechan had been "embraced by the extreme right".
Mr Borowski said the SCoJeC had been "flooded with abusive messages" after he gave evidence in court.
"We are grateful to the court for recognising that shouting 'gas the Jews' over and over again is not a joke, and that claiming that something is a joke does not make it any less offensive," Mr Borowski said.
"This case was not about whether the video was a joke but about whether it was intended to give offence.
"Meechan himself made clear both in the video and in court that that was his intention, and far from apologising or expressing regret, is now presenting himself as a martyr and has been embraced by the extreme right."
M8 Yer Dugs a Nazi was watched more than three million times after it was uploaded to YouTube.
In the video, Meechan asks the pug if it wants to "gas the Jews" 28 times before it raises a paw in an imitation of a Nazi salute when the 30-year-old says "sieg heil".
Meechan claimed he made the video as a joke to annoy his girlfriend but now faces up to six months in jail after being found guilty of posting an offensive message.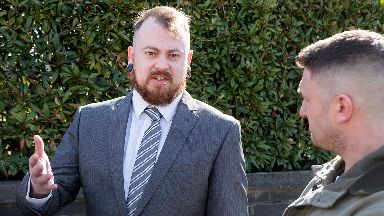 Mr Borowski said videos such as M8 Yer Dugs a Nazi "normalise" anti-Semitism.
"The large number of such messages that SCoJeC has itself received by direct e-mail and on social media since the verdict was announced bears this out," he said.
"Freedom of speech does not encompass shouting fire in a crowded theatre, nor does it encompass making and disseminating grossly material that adds to the anxiety and vulnerability of Jewish people in Scotland."
Following his conviction on Tuesday, Meechan described the verdict as a "dark day" for freedom of speech.
"I think it's a very, very dark day in regards to freedom of speech and freedom of expression," he said outside court.
"The thing that was most worrying is that one of the primary things in any action that is to be considered is things like context and intent, and today context and intent were completely disregarded."