Ooh-eck, Penfold are rocking it up at the Inland Revenue
What do the Inland Revenue, cartoon hamsters and rock 'n roll have in common?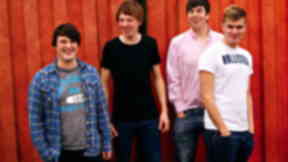 There are numerous thoughts that spring to mind when you think of the Inland Revenue.
Filing, paperwork and having to listen to Greensleeves while on hold are probably uppermost but have you ever thought alternative melodic hard hitting rock?
Twenty one year old Calum Sked works for the Inland Revenue by day. By night he is a marketing manager, publicity spokesman and "the guy that does everything really".
He also plays bass in rock band Penfold.
"I work for the Inland Revenue as rock and roll as that is", laughs Calum.
"Everyone at work knows what I do though and they've been really supportive. They've seen me play and a few are even coming to our debut launch this week."
Brought together in October 2011, Penfold have not been in the musical ring of fire for long but have already supported strong local bands such as Johnny and the Giros and Dead Sea Souls.
This week, they're set to launch their debut EP Hindsight and Regrets at Bannermans Bar, no small feat for young men barely the legal age to gamble.
Calum said: "I work full-time as does Calum More, 19, Thomas Fraser, 19, goes to uni and works part time and Liam Innes, 21, works full time.
"Me, Calum and Thomas were in same year together at school in West Calder and I met Liam working at Wetherspoons.
"There is a good reputation for bands from West Calder High School actually. The music department was really good and bands were well supported there."
When the band met together for the first time last year though, all four members rocked up with guitars.
"We were just four people that played guitar and three of us wanted to sing", laughs Calum.
"Between us we worked it out though. I wasn't as good a singer as Thomas and Liam figured he'd learn drums. Other Calum is a brilliant guitarist and I ended up on bass but now it just works perfectly.
"We name ourselves after the cartoon character in Dangermouse. We went through loads of different band names but none suited us.
Names that meant something deeper just sounded stupid but Thomas got called Penfold by one of his mates in school so we gave that a shot and its stuck."
Penfold was originally the timid, bespectacled hamster side-kick of hit cartoon character Danger Mouse in the eighties most commonly known for his catchphrases "Ooh-eck", "Ooh-Fiddle" and "Ooh-Carrots".
Calum said: "We thought long and hard about what we wanted to sound like too. We're a bit alternative, melodic, hard- hitting rock, but it's quite catchy - not too hard and it's got a good beat behind it."
Describing their music as influenced by the likes of Biffy Clyro with Smashing Pumpkins riffs their latest release certainly gives hint to a young Nirvana-esque style.
"We're really excited," says Calum. "We've got a rehearsal tonight so hopefully it goes well.
"We asked our friends electro band Lionhall to support us and we're being joined by So Many Animal Calls - a brilliant band who already have a great rep in Glasgow.
"I guess everyone in the band would love it if we could this full time but we're just focussing on getting a solid backing behind us at the moment and maybe go on a tour of Scotland at the end of the summer.
"Hopefully we can release a single at end of the year too. We're just hoping to get a good backing in Scottish music, I can definitely see us slotting into the the music scene here.
"Glasgow has a brilliant vibe along Sauchiehall Street but I wouldn't take anything away from Edinburgh because we're more local about our music there.
"Our main aim is just for people to see us as nice happy people who like to make music.
"But hey everyone, I guess we'll see you there on Thursday."
Penfold are playing live at Bannerman's Bar, Edinburgh on Thursday May, 31, at 8pm. Tickets cost £4.
Did you know?
By 1983, Danger Mouse viewing figures hit an all-time high of 21.59 million viewers. In the same week, the movie Superman III only managed to have 16.76 million viewing figures.