City bus service expands network to east Lothian
A new route links rural area with Edinburgh and Western General Hospital.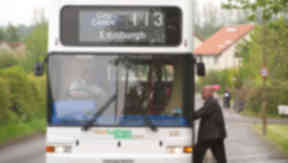 New bus service launched to link east Lothian with Edinburgh and the Western General Hospital.
The 113 route started on Monday linking Pencaitland to the capital replacing a service provided by First Bus.
It is operated by East Lothian Buses which is an expansion of the award winning publicly-owned city bus company Lothian Buses and will be covered by the BusTracker information service.
Vehicles on the route are refurbished double deck buses painted white with the gold and green East Lothian Buses logo.
Ian Craig, managing director of Lothian Buses, commented: "East Lothian Buses will benefit from the experience, expertise and investment of Lothian Buses Plc, offering passengers a modern accessible fleet, as well as a better standard of service, and better value fares and ticket structure.
"We are currently recruiting drivers for this new route. Where possible we will recruit First Bus drivers who have been made redundant."
This route will run every hour, seven days a week, with additional buses at peak times. It will also offer a new link between East Lothian and the Western General Hospital.
The fare structure has changed to what First Bus offered. A single ticket will now cost £2.40 as opposed to £3.60, and a DAYticket will now cost £5 as opposed to £7.30.
East Lothian Buses will also offer a new RIDACARD season ticket provide passengers unlimited travel on East Lothian buses, all Lothian Buses and AIRLINK.