More than just a place to park the car as garage art takes off
From basements to bedrooms, artists find new ways to exhibit their work.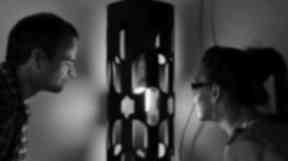 Only an artist could look at a dusty office garage, a homely bedroom or busy kitchen counter and picture an exciting, creative alter-ego.
Transforming a dingy, dusty garage into a work of art is no easy feat - but it's a challenge that a canny group of artists have tackled head-on.
'Garage', led by local artist Emma Bowen, regularly change a New Town office garage space into their own art gallery, in an attempt to break away from traditional, minimalist exhibition spaces.
The garage must tolerate the midweek ugliness of parked cars gathering dust, before embracing its aesthetically pleasing split personality on Saturdays and Sundays. The collective are currently hard at work making sure that the next exhibition is going to be bigger and better than the last.
"We wanted to try something new, in a space that was different from others," said Emma Bowen.
"It's a place that people can come by and make stuff during the year, then show it together."
What started off as an experiment has become a firm staple at the Edinburgh Art Festival, as well as a great opportunity for artists to exhibit work at various points throughout the year.
After graduating from Edinburgh College of Art, Emma found that while her course had honed her painting skills it hadn't prepared her for the realities of being an artist in the outside world.
Drawing on a core group of creative friends and fellow graduates, Emma realised the potential for creating a collective that could make their own opportunities in the Edinburgh art scene.
"I've got lots of good friends that make stuff that I'm into," said Emma. "People who are into making things, and who are up for new challenges."
Out of this, Garage was born. Featuring artists that specialise in everything from film-making and illustration to cartoons and clothing, the group has come together to exhibit their creations and boost their profiles.
"I was inspired by an artists' residency that took place in a caravan," said Emma.
"I wanted something unusual, something that had an interesting angle. It's tough times for artists who want to exhibit, you face rejection from other places so it's good to start your own. We're lucky we found ours."
Emma also works in community projects, bringing her artistic expertise to everything from youth theatres to psychiatric hospitals. Using her knowledge and creativity within these groups, Emma finds her work creatively rewarding as well as a great opportunity to meet new, exciting artists to welcome into Garage.
"As an artist you sometimes get stuck making your own work, it can be very isolating," said Emma.
"It's fantastic to work with kids - it's in a way more inspiring than going to art college. You meet a lot of very interesting people through working in community based art."
The garage is not the only unusual art space that Emma has ear-marked for artistic transformation - the imaginative artist has given a new lease of life to everything from kitchens to her own bedroom.
Likely the most intimate gallery space that Emma has created, she recently opened her bedroom to the public. Collaborating with 13-year-old artist Abe Locke, who specialises in making plastersenosaurs (plasticine dinosaurs) Emma turned the place where she sleeps into a wonderful work of art.
Adorning pianos and televisions with plasticine creations and hanging her own drawings on the walls, the artist's bedroom took on an entirely new identity.
Following on from the success of bedroom painting and plasticine creations, the front room of Emma's home is currently hosting an exhibition by local painter Sharon Quigley. Sharon's art can be viewed by appointment, with guests invited to stroll around the flat and admire the work among Emma's every day furniture.
Opening her home in the name of art has become second nature to the artist, who sees opportunity for exhibitions in the strangest of places. Her attentions must now focus on hosting Sharon's exhibit, while co-ordinating Garage's next big project.
With preparations for the Edinburgh Art Festival now well under way, the garage has come to life with artists collecting and creating. The sleeping cars won't know what's hit them as the creative chaos of exhibition preparation descends on the office parking spaces.
"We just want to have fun and enjoy ourselves," said Emma. "Everyone works so hard throughout the year, we want to get together and put on a really great show."
You can follow the Garage project online now by visiting the Garage blog.