Hemma is where the heart is for Swedish bar scene "power couple"
They've caught the heart of the Leith Walk community, but how will Anna and Mike Christopherson's Holyrood pub fare?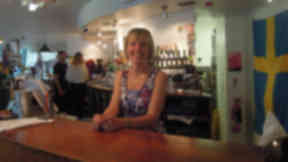 Jogging clubs, mini-markets and knitting – not what you would expect from your local pub?
Since opening their first bar in 2004, Swedish couple Anna and Mike Christopherson have transformed four venues along the length of Leith Walk into quirky, community-minded spaces.
Loosely based on the café culture of their sparsely-populated native village, Boda, Victoria, Sofi's and Joseph Pearce have gathered a loyal following of locals – as much for the company of the genial hosts as the film nights, DJs and clothes swaps.
But with their latest venture, Hemma (Swedish for 'home'), occupying two floors of The Tun, a gleaming, contemporary building located a stone's throw from the Scottish Parliament and a clutch of offices, including the Scotsman newspaper's headquarters, will their pub-society continue to fare?
"Because so many people work in the area there's not really a community feel to it but there should be - there are still a lot of people living here too," said Anna, 37, speaking from Hemma, which has been decorated to reflect her other establishments, complete with mismatching furniture and flowery wallpaper.
"The funny thing is you realise you know a lot of the people from the other bars but that they're just wearing suits.
"We often used to take the kids up Arthur's Seat and we felt there wasn't a single place where it was nice to go for a coffee afterwards so we thought: 'there's a need here'.
"We also thought it's an amazing space, so big. We always found it hard to do all the things we wanted to do in the other bars because we didn't have the space. Now we can be very busy downstairs but still people doing things like workshops upstairs."
Welcoming birthday parties, work dos and even weddings – alongside a baking club, a new jogging club and a series of fundraising events – Anna and Mike are determined to turn their latest enterprise into the kind of community hub they've nurtured on Leith Walk.
And there's no doubt the husband and wife team, described by one blogger as "a power couple on the Scottish alternative bar scene", who originally came to Scotland with no intention of staying, have the experience and enthusiasm to succeed.
"When we bought the first bar, Boda, it was because there was nowhere we felt was a place we wanted to go - there was never a place in Sweden that we felt we liked either - so we made something in the style that we wanted. So everyone calls them Swedish bars but they don't really look like Swedish bars.
"When we opened Boda we met so many people and we actually fell in love with them - the attitude, the friendliness. The daily life has a really high quality here. It's more open than Sweden."
Eight years, four bars and two children (Sofia, seven, and Carl, five) later, former property company manager Anna and 44-year-old Mike, who used to work as a management consultant, seem to have hit on a model that works – as much for them as for the customers.
"In Sweden there are no pubs, there's no pub culture whatsoever, but there is a culture of getting together and doing things.
"Where I'm from, it's a tiny place and we always had to make our own events so when we were kids we had film nights, we had theatre, we had baking, we had lots of things on a voluntary basis.
"In the pubs I think it's all about finding it. There's no point forcing events that people aren't interested in. It's something that has to develop organically. Of course it takes lots of time, but that's also what makes it fun. It's about changing and developing and not looking at what other people are doing but trying to be creative.
"It's about the staff too - I think our staff are really nice. I like to hang out with them; they're almost like a family, and that makes a big difference. I think that's important, especially if it's a bar with lots of regulars – or a 'community bar'."
As well as their successful chain of pubs (although they prefer not to call it that), the Christophersons have been busy supplying bars and speciality shops with their own brand of Swedish cider, Idun's, while cultivating a new customer base for Hemma.
So how are the former business man and woman enjoying the landlord lifestyle?
"I don't think I'd be in it if it was just about pouring pints and wine. It's not about having Cristal behind the bar or serving the cheapest pint of beer - it's about the experience."
IN DETAIL