Opinion: Cycle helmet laws should be backed by evidence
Chris Oliver, consultant surgeon and chair of CTC Scotland, says nobody should be compelled to wear a cycle helmet.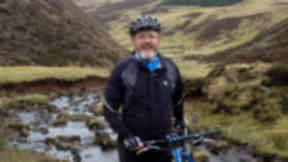 Bradley Wiggins recent comments about compulsory wearing of cycle helmets does warrant some more careful thought. In Scotland the Cyclists Touring Club has over 4,500 members. CTC is not 'anti-helmet' and does not take sides on whether or not it is a good idea for individual cyclists to wear them.
Here are the cycle helmet facts.
There is no justification for helmet laws or promotional campaigns that portray cycling as a particularly 'dangerous' activity; or that make unfounded claims about the effectiveness of helmets. Cycling has very substantial health and other benefits, whereas the risks of cycling are not especially high.
By reducing cycle use even slightly, helmet laws or promotion campaigns are almost bound to cause a significant net disbenefit to public health, regardless of the effectiveness or otherwise of helmets.
The effectiveness of helmets is in any case far from clear. They are (and can only be) designed to withstand minor knocks and falls, not serious traffic collisions. Some evidence suggests they may increase the risk of cyclists having falls or collisions in the first place, or suffering neck injuries.
Whilst helmet laws have reduced cyclists' injury numbers, the evidence suggests this is wholly or mainly due to reductions in cycle use, not improvements in safety for the cyclists who remain. Reduced cycle use may itself explain why the remaining cyclists are more at risk, due to the loss of the benefits they previously gained from 'safety in numbers'.
Government and other bodies concerned with health or road safety should simply aim to encourage people to cycle, regardless or whether or not they choose to wear helmets when doing so. Enforced helmet laws cause deep and enduring reductions in cycle use, undermining it's very substantial health and other benefits. Given that the risks of cycling are low – they are not greatly different from those of walking or other forms of active recreation – even a very small reduction in cycle use would be counter-productive to health and other public policy objectives, regardless of the effectiveness or otherwise of helmets.
In practice, this disbenefit is potentially very substantial, not least because the deterrent effect is likely to be strongest among key target groups for physical activity promotion, e.g. women, teenagers, less well-off communities and ethnic minority groups.
Cycle helmets have in any case not been shown to be an effective way to reduce cyclists' injury risks. Indeed they might even be counter-productive, by encouraging drivers or cyclists to behave less cautiously, and/or by increasing the risks of neck and other injuries. By deterring people from cycling, they may also reduce the benefits that cyclists gain from 'safety in numbers'.
Enforcing helmet laws would require levels of police activity that would be grossly disproportionate to any possible benefits. Conversely, unenforced helmet laws make no long-term difference to helmet use, and therefore cannot provide benefits in any case.
Road safety policies should prioritise measures that reduce the risks that deter people from cycling – traffic speeds, hostile roads and junctions, dangerous or irresponsible driving, and lorries – and offering quality cycle training for people of all ages, to give them the confidence and skills to ride safely on the roads.
Individuals should be free to make their own decisions about whether or not to wear helmets, with parents making these decisions in the case of younger children. Their decisions should be informed by clear information about the uncertainties over the benefits or otherwise of helmets.
Schools, employers and the organisers of non-sporting cycling events (e.g. sponsored rides) should not seek to impose helmet rules for their pupils, staff and participants respectively. These rules are not justified in terms of health and safety, they are likely to reduce both the numbers and the diversity of people who take part in cycling, and they may in some circumstances be illegal.
There is limited evidence on the risks involved in different types of off-road recreational cycling (from family riding to downhill mountain biking etc.) and cycle sport. Likewise, evidence on the potential for helmet use to mitigate (or exacerbate) these risks is equally limited. These are in any case not matters for road safety policy.
For sporting events, CTC recognises the right of governing bodies to require the wearing of helmets in line with their own and international regulations for these events, given the different types of risk to which sport cyclists are exposed.
Spokes, Scotland's cycle campaign group which covers Edinburgh and the wider Lothian area, had announced earlier this year that it is to stop publicising events that require participants to wear a helmet in the face of what it describes as "the creeping growth of semi-compulsion." CTC would support Spokes view that compulsion to wear helmets is impractical.
Spokes were concerned at the creeping growth of semi-compulsion, for example charity bike rides insisting on helmets for young adults and government-funded websites picturing all or nearly all cyclists helmeted, thus creating a climate in which total compulsion could eventually happen.
They said: "Helmet advertisers, promoters and government agencies bombard us with the benefits but, disgracefully, we are never told of the risks – although there is evidence on both sides, and crashes and injuries occur as a result of the risks of helmets.
"Compulsion, or one-sided promotion, is very wrong – even more so as they put people off the healthy choice of getting about by bike. Therefore, Spokes will not publicise charity rides or other events involving helmet compulsion."
So helmet choice should be a personal one, compulsion should be backed by evidence.
Written by Chris Oliver.
Chris Oliver is a consultant surgeon working in Edinburgh and has many years of experience treating cyclists after serious road traffic, cycle sport and commuting cycle injuries. In his training he spent a year as a neurosurgeon and has a wealth of experience on head injury. Chris Oliver is also Chair of CTC Scotland.