Fifer uses plinth to praise Scotland's NHS
Man from Inverkeithing uses Trafalgar Square art project to remember his late mother.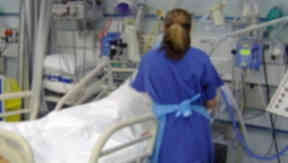 A televised art project in Trafalgar Square focussed its attention on public services in Scotland on Monday.
A trade union worker from Fife took to the fourth plinth in the famous square to pay tribute to the way the NHS helped his dying mother.
Kevin O'Neil was given an hour on the plinth as part of artist Antony Gormley's One and Other project. The scheme allows ordinary people to use their time on the plinth in whatever way they see fit.
Kevin, from Inverkeithing, will be used his time to publicise a campaign launched by his employer, UNISONScotland. he held up speech bubbles used in the Million Voices campaign to explore people's experiences of public services.
40-year-old Kevin said the campaign was close to his heart because of the outstanding way the NHS assisted his dying mother.
Kevin said: "I wanted to say something in memory of my mother, who died seven years ago of a brain tumour.
"The NHS is an amazing institution and gave her endless support. It is a shining example of how vital public services are, especially during a financial crisis, and I cannot praise the dedication of its staff enough and I know my mother felt the same.
"This is exactly the principles espoused by UNISON's Public Works campaign and I am proud to be able to support this and add to our Million Voices from the plinth.
He added: "I have always admired Anthony Gormley's work and think it is fantastic that everyone can be involved in creating a piece of art. After watching the launch of One & Other on television I turned round to my wife and told her I needed to apply and I feel lucky to have been chosen."