Corrupt officials given lap dances in return for council contracts
Charles Owenson and James Costello worked for Edinburgh council when they were given hospitality by ABC Ltd.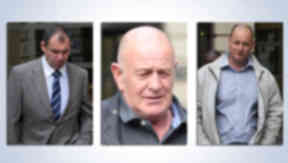 Corrupt officials were treated to dances and drinks in lap dancing bars by builders trying to seek valuable council contracts, a court has heard.
Former Edinburgh Council employees Charles Owenson and James Costello were given hospitality by ABC Ltd, including corporate seats at Hibs and Hearts football grounds, meals and bar crawls.
The contractors even submitted inflated invoices to the local authority for work carried out to cover the costs of the bribes they were paying council officials.
On Friday fiscal Keith O'Mahony told Edinburgh Sheriff Court: "In essence, the council was being charged for the cost of bribing its own officials."
Invoices were found that were falsely inflated to the value of more than £67,000.
The prosecutor said the hospitality the firm provided was "extensive" and added: "Drinks and lap dances were purchased for Owenson and Costello."
Owenson, 62, of Drum Brae Neuk, and Costello, 44, of Crosswood Crescent, Balerno, both Edinburgh, earlier admitted offences under the 1889 Public Bodies Corrupt Practices Act and proceeds of crime charges. Both have been dismissed.
Two former directors of ABC, which went into liquidation in 2010, Kevin Balmer, 52, of Tantallon Gardens and Brendan Cantwell, 44, of Bankton Gardens, both Livingston, West Lothian, also admitted a corruption offence. Balmer also admitted fraud.
Mr O'Mahony said: "This case concerns the corruption of City of Edinburgh council officials by contractors who have given the council officials bribes being cash payments and hospitality in exchange for being allocated maintenance and repair contracts.
"It also concerns a fraudulent scheme whereby contractors have falsely inflated the invoices they submitted to the council following completion of work in order to cover the costs of the bribes they were paying to council officials."
First offenders Owenson and Costello both worked as property care services officers with the council in a department that looked after schools, care homes, community centres and cemeteries.
They were responsible, with others, for logging reports of properties that needed repairs and taking on contractors to carry out the work.
ABC was an approved contractor and carried out the "vast majority" of the work at the time of the offences.
Mr O'Mahony said at the height of its success ABC was turning over more than £4m a year and employed more than 70 staff.
Police began carrying out enquiries in 2010 as a result of complaints about the statutory notices system and were later informed that senior management at the council had received "a whistle blower letter" alleging Owenson was showing favouritism when allocating work to contractors.
In 2011 officers attended at the offices of ABC in New Mart Road, in Edinburgh, and seized documentation.
The fiscal said: "The seized paperwork included records of payment sought by ABC from Edinburgh city council following completion of work. These records itemised the costs of various aspects of the work carried out such as materials and labour.
"However, they also included an additional figure ranging from £20 to £2000 and the initials of either Owenson or Costello next to that amount."
A total of 175 suspicious work orders were identified.
Owenson was linked to 102 of the orders and his initials or name was against sums of money totaling £28,387.
His colleague Costello was related to 73 of the work orders with his initials against amounts of cash adding up to £14,134.
Owenson and Costello were regular visitors to the offices of ABC which had one main client at the time, Edinburgh Council.
About 93% of the invoices issued by the firm from 2006 to 2010 were for work carried out on behalf of the local authority.
Mr O'Mahony said witnesses saw Balmer regularly putting cash in the top drawer of his desk in envelopes.
When the council officials came to the offices to meet Balmer they would go into a meeting room, which was all glass, and the blinds would be drawn.
The prosecutor said: "No witnesses actually observed any money or envelopes being passed to Owenson or Costello."
In 2009, Balmer told a member of staff at the firm he was "fed up" of Owenson and Costello and stopped giving them payments for a short period.
He later revealed he came under pressure because ABC was losing business and jobs were being allocated to other contractors and the bribes resumed.
Alongside the bribes that were paid was the hospitality doled out to the council officials. More than £30,000 was spent by the firm at hospitality events attended by Owenson and Costello, although others were also present.
The fiscal said: "One witness states that Costello bragged about the money being spent by ABC and on one occasion claimed a night out he had attended must have cost ABC £5000."
During one outing Costello would place his empty glass on his head indicating it was time someone from ABC bought him another drink.
The court heard that between December 2006 and November 2010 Balmer received £141,541 in dividends and Cantwell £135,071.
The Crown has raised proceedings to recover crime profits in the case.
Sheriff Michael O'Grady QC ordered reports and the men were released on bail until sentencing next month.
Download: The STV News app is Scotland's favourite and is available for iPhone from the App store and for Android from Google Play. Download it today and continue to enjoy STV News wherever you are.
Join in: For debate, chat, comment and more, join our communities on the STV News Facebook page or follow @STVNews on Twitter.
Updates: Would you like STV's latest news update in your inbox every morning? Choose from our range of regular e-newsletters here