Palestinian photojournalist refused UK entry for Fringe show
Immigration officials said they 'were not satisfied' Hamde Abu Rahma was a 'genuine visitor'.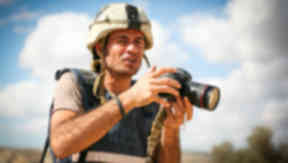 A Palestinian photojournalist who was invited to show his work at the Edinburgh Festival has been denied an entry visa by the UK Government.
Hamde Abu Rahma, 27, a photographer from Bil'in, near Ramallah, had been due to take part in the Welcome to the Fringe: Palestine events at the Forest Fringe on August 23.
But on Thursday afternoon, he revealed on social media that he had been denied a visa by the UK Government.
His work has previously appeared in exhibitions, magazines, websites, and a number of UK national newspapers. He is also the author of the photobook Roots Run Deep - Life in Occupied Palestine, which documents Palestinian struggles in the Occupied Territories.
Speaking on Friday, Mr Abu Rahma said: "After more than three months of organising and planning for my trip to the UK on a speaking tour of England and Scotland to participate in this year's Edinburgh Fringe Festival, my application for a visa has been refused.
"I am deeply disappointed that I cannot travel to the UK this time, but I would like to thank all my friends in the UK for their support and for being willing to host me in their homes.
"I am extremely sad at this rejection and the loss of such a wonderful opportunity to visit the UK.
"The major arts festival invited me to show my photographs which represent the non-violent resistance and my talk about Palestinian life to the British audience. The UK government refused to give me a visa and the reason for refusal was that I didn't show any bank statements or documentation to demonstrate my ability to support myself during my visit.
"Despite sending complete evidence of the sponsorship provided to fund my trip and all contact details of my sponsors proving that all my travel and accommodation costs have been met, they still refuse my application."
Welcome to the Fringe was inspired by a controversy in 2014 over Israeli group Incubator Theatre's production, The City.
Mr Abu Rahma had also planned to visit other cities in the UK to promote his book and work as a social activist.
'Not a genuine visitor'
His rejection letter from the UK Visas and Immigration said: "You have not shown that you're meeting your daily living costs and other financial obligations. I'm not satisfied that you are a genuine visitor.
"I consider that you do not have strong enough economic or social ties to the Occupied Palestinian Territories to satisfy me that you intend to leave the UK."
The photographer said the rejection had taken him completely by surprise, and his sponsors would appeal the decision.
He said: "I have travelled to many countries in Europe, like Germany, Switzerland, Italy and Holland to speak publicly about Palestine.
"None of these countries have given me a difficult time entering and the visa applications were all accepted without any issues."
The trip's funding was provided through an online appeal, and Phil Chetwynd of the Network of Photographers for Palestine would have provided accommodation.
Mr Chetwynd confirmed that Hamde's visit to the UK was fully funded and met all requirements for obtaining a visa.
He said: "We're obviously deeply disappointed and really quite outraged at the trivial nature of which his visa has been refused.
"The visa application process for Palestinians is incredibly obscure and very difficult to find your way through. However we've sent all relevant documentations and one just wonders at the implications this man has in terms of the immigration policy today."
Hamde's mother is blind and relies on him for care and support, so it is ridiculous to assert that he will try to stay in the UK.
"There's no doubt that we will get Hamde here for the festival, even if it is next year, he's a prize-winning photographer."