Woman loses legal bid to force NHS to provide homeopathic medicine
Honor Watt sued Lothian Health Board after they stopped providing the controversial treatments.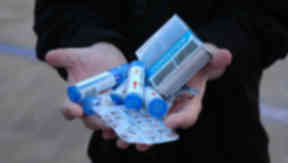 A grandmother has lost her legal battle to force a health board to provide controversial alternative medicines on the NHS.
Honor Watt, 73, sued Lothian Health Board in Edinburgh's Court of Session after the authority stopped providing homeopathic treatments to patients.
The board decided in June 2013 that the money spent on giving people the substances would be better spent on conventional medicines.
A report from the House of Commons Science and Technology Committee said there is no evidence that homeopathy is effective as a treatment for any health condition.
Practitioners believe that using a diluted substance which causes certain symptoms can help to remove those symptoms
Many homeopathic remedies consist of substances that have been diluted many times in water until there is none or almost none of the original substance left.
Ms Watt suffers from arthritis and received homeopathic medicine for her debilitating condition.
Her lawyers decided to challenge the board's decision in the Court of Session claiming the health board acted illegally.
Ms Watt's solicitors claimed the Equality Act 2010 placed an obligation on the health board to ask their patients for their views on whether homeopathy should be continued to be funded.
The legislation states that public sector organisations have an obligation to consider their decisions on the terms of what is called a public sector equality duty.
This is designed to tackle racial, sex and economic class discrimination against people.
But on Friday, judge Lord Uist ruled that the health board acted legally and he refused to overturn the board's decision.
In a written judgement issued on Friday, Lord Uist wrote that the health board acted correctly.
He wrote: "It is clear to me from an examination of the relevant documents that the board was from the outset consciously focusing on its PSED."
The judgement states that Ms Watt, of Dalkeith, Midlothian, was first referred to the homeopathic service in 2003 suffering from anxiety.
She was given a homeopathic medicine called Bovista after telling medics that conventional medicine wasn't controlling her arthritis.
In January 2014, she was given a final appointment with the homeopathic service and told she was no longer entitled to homeopathic treatment.
However, the judgement states that Ms Watt still receives a prescription of homeopathic medicine.
Lothian Health Board decided to end homeopathic provision after concluding the money would be better spent on conventional treatments.
Studies conducted by medics have concluded that there is no proof that homeopathic medicine works.
The board made the decision after holding a consultation exercise and concluding that a minimum of NHS users would be affected by the decision.
In a report written by NHS employee Alyson Malone, the reasons for why the board should stop spending money on alternative treatment were set out.
Lord Uist wrote: "In that report she stated that the withdrawal of funding for homeopathic services would have a limited negative impact on patients and staff, the majority of patients were from more affluent areas and it was felt that they could perhaps afford to self fund alternative provision."
However, lawyers acting for Ms Watt claimed that the board didn't do enough to seek the views of those who used the service.
They argued that the board broke the terms of the 2010 Equality Act.
However, Lord Uist wrote that after examining the evidence, he concluded that the health board had done everything in its power and had made the correct decision.
He added: "I am satisfied that reduction of the board's decision of June 26 2013 would result only in a waste of time and public funds as it would inevitably result in exactly the same decision being taken by the board."