Family of man who died in police custody to meet investigation chief
Sheku Bayoh died after being restrained by officers in Kirkcaldy in May.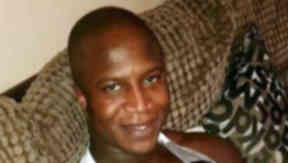 The family of Sheku Bayoh will next week meet the head of the team investigating his death.
Police Investigations and Review Commissioner Kate Frame will meet on Thursday relatives of Mr Bayoh, 31, who died after being restrained by officers in Kirkcaldy, Fife.
She is expected to reassure his partner Collette Bell that all lines of inquiry are being explored to establish the circumstances of his death on May 3.
A post-mortem examination proved inconclusive and a Sunday newspaper reported family concerns that experts called in by investigators may blame a medical condition known as excited delirium, which has been cited in other custody deaths.
It is used to describe the state of a person who, as a result of mental illness or drug use, becomes agitated, violent and displays extreme strength.
The Police Investigations and Review Commissioner (Pirc) said the fact that forensic pathology experts from outside Scotland have been contacted is not a sign that it has focused its investigation on a particular cause of death.
Pirc said: "The commissioner can reassure the family that in fact the opposite is true.
"In order to assist the family in understanding what caused Sheku Bayoh's death, the Pirc identified a number of expert forensic pathologists to the Crown Office.
"The Lord Advocate then selected and instructed the commissioner to approach the chosen experts and seek their opinion on the cause of death.
"Once the experts' opinions are available they will be passed to the Crown Office and the Pirc would anticipate that, in accordance with standard practice in a serious case such as this, they will take the opportunity to precognosce them as witnesses along with other significant witnesses identified in the Pirc report.
"The commissioner will reassure the deceased's family at her meeting with them on Thursday that further lines of enquiry continue to be explored."
The family of Mr Bayoh, a trainee gas engineer and father of two, last week met the Lord Advocate Frank Mulholland to discuss the investigation.
Their lawyer Aamer Anwar said: "The Bayoh family have stated from day one that Sheku acted out of character and that if he broke the law then the police had a right to act, but he did not deserve to die.
"When officers armed with CS, pepper spray, batons and handcuffs and restraints, try to subdue someone by force and that person dies, the number one question is whether their actions resulted in that death."
Police Scotland said they await the conclusion of the Pirc investigation and remain committed to co-operating fully with the body's inquiries.