MP contacts police over mortgage fraud probe involving her lawyer
Michelle Thomson offered assistance to police investigating property deals involving her solicitor.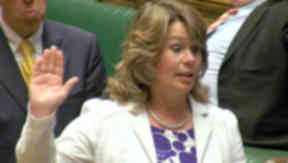 Legal representatives for under-fire MP Michelle Thomson have contacted Police Scotland to offer her full assistance with their investigation into property deals.
On Tuesday, Mrs Thomson withdrew from the SNP whip and was subsequently suspended by the party after a probe was launched into business conducted by her lawyer.
The Edinburgh West MP's solicitor was struck off by the Scottish Solicitors' Discipline Tribunal (SSDT) over several deals where Mrs Thomson used his services.
After that ruling, Police Scotland confirmed it was instructed by the Crown Office to investigate "alleged irregularities relating to property deals" in 2010 and 2011 following the Tribunal ruling.
A probe has been launched into the case, though there is no suggestion Michelle Thomson is personally being investigated.
Mrs Thomson insisted she would cooperate with any investigation into the deals but said she would withdraw from the party whip as the probe was ongoing.
On Wednesday, Nicola Sturgeon told reporters she believed that was the right thing for Mrs Thomson to do.
Mrs Thomson's solicitor Aamer Anwar said on Thursday: "Over the last few days individuals have demanded full transparency from the SNP and the First Minister as to what they knew of the detailed nature of Michelle Thomson's business dealings some several years before she became an MP- the simple answer is none at all.
"Michelle Thomson maintains that she has always acted within the law. In the interests of her constituents and her party she thought it best if she voluntarily withdrew from the party whip.
"There was no requirement for her to do so, even though she knew it would automatically lead to her suspension from the party. She did so in order to clear her name and return as quickly as possible to the front line politics.
"To that purpose we have contacted Police Scotland at Mrs Thomson's request advising them of her wish to assist with their investigation if or when they wish to speak to her.
"In the meantime we would strongly advise those who should know better, to tread extremely carefully and not prejudice a live investigation. "We have advised Mrs Thomson that it is important that no further comment is made on these matters until the investigation is concluded."The last week has been an extremely difficult one and Michelle is grateful for all the messages of support. She maintains her commitment to the ideals of the SNP and will continue to work on behalf of her constituents". Meanwhile, Nicola Sturgeon was grilled at First Minister's Questions over the matter and said it is "ridiculous" to suggest the SNP would allow a candidate to be put forward for election knowing there were "serious problems" over their integrity.Ms Sturgeon was challenged on the party's knowledge of MP Michelle Thomson's business dealings.
Speaking at Holyrood on Thursday, Ms Sturgeon said: "I said yesterday, I have said again today: the SNP had no prior knowledge of these issues.
"Of course, as I also have already said, Michelle Thomson denies any wrongdoing, therefore presumably she would maintain that there was nothing for her to have brought to the attention of the SNP.
"Our vetting procedures as a party are robust but we keep them under review, as I would hope every political party does.
"While we make all reasonable checks and ask all reasonable questions, by definition it is not reasonable to expect that matters of which we have no knowledge can be investigated.
"But what is also ridiculous to suggest of any political party is that any party would knowingly allow a candidate to go forward for selection knowing there were serious problems about the integrity of that individual candidate.
"If there are matters that are proven to have been done wrong, then these will be serious issues that the SNP will respond to."
Ms Sturgeon said Ms Thomson was entitled to a presumption of innocence and warned against the temptation "in the hurly-burly of politics to seek to pre-judge issues".
Labour's Kezia Dugdale accused the SNP leader of "running away" from Ms Thomson, who was the SNP's Westminster spokeswoman for business, innovation and skills.
"This is a First Minister who claims that nobody in the SNP knew anything about that, and I will take her word for that. But now she does know. She knows that an elected representative in her party acted in a way that is unacceptable. This is someone that the SNP did know.
"The First Minister has spent two days running away from Michelle Thomson as fast as she can, but isn't it the case that for the last two years Michelle Thomson has been right at the heart of everything the SNP stand for?"
Meanwhile, the chief executive of the Law Society, confirmed that no members of staff had been suspended following the delays in reporting the case to the Crown.
Lorna Jack said the issue had been raised informally at two quarterly meetings with the Crown in December 2014 and April 2015 before formal proceedings were lodged in July 2015.
Ms Jack also expressed confidence in her staff that they had acted in the right way throughout investigations.
Committee secretary Sheila Kirkwood had been the subject of press attention after it emerged she knew Mrs Thomson personally.
However, Ms Jack said she believed Ms Kirkwood's claims that she never appreciated the MP's involvement in the case until the story was covered int he media.
She said: "The names of Christopher Hales's clients were not included in any Law Society papers that Sheila handled. The first time Sheila realised Michelle Thomson was involved in the Christopher Hales case was from recent media reports.
"Sheila is entitled to her personal political views. The Law Society is a non-partisan organisation. However, we do not stop our staff from holding or expressing their own views in their personal lives. People in Scotland are legally entitled to express their personal opinions.
"I am confident there was no conflict of interest in relation to Shelia's role at the Law Society."