Job losses as leading Scottish renewables firm ceases trading
Edinburgh-based wave energy company Aquamarine Power called in administrators in October.
A renewables firm heavily involved in Scotland's leading marine energy centre has ceased trading with the loss of more than a dozen jobs.
Edinburgh-based Aquamarine Power called in administrators in October due to what it described as a "lack of private sector backing".
Aquamarine had been testing its world-first wave energy machines at the European Marine Energy Centre (EMEC) in Orkney.
But on Friday, the firm folded with the loss of all 14 jobs, including 13 in Edinburgh and one in Belfast.
Staff at EMEC-based wave power firm Pelamis Energy were made redundant last December after the company called in administrators.
James Stephen, of administrators BDO, said: "Despite a comprehensive marketing process and after speaking to a number of interested parties, we regret to announce that no offers were made for Aquamarine Power, leaving us with no option but to cease to trade the business.
"The company ceased to trade on Friday. This means that 13 jobs have been lost in Edinburgh and one in Belfast.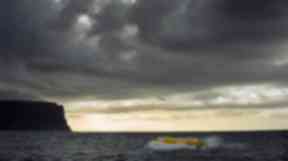 "Our duty now as joint administrators is to maximize recoveries from the asset base for the benefit of creditors."
Aquamarine's Oyster wave energy system uses the motion of waves to pump water through high-pressure pipes which run along the seabed to the shore, driving an onshore hydro-electric turbine.
The system was launched by then-First Minister Alex Salmond in 2011.