Police routinely stop motorway car and uncover £8m heroin haul
Traffic officers discovered Nathan Cook transporting high purity heroin in a borrowed car last year.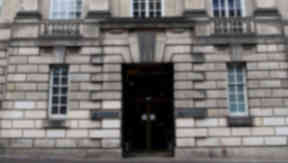 A judge has praised police for intercepting a massive haul of heroin that could have put 8m worth of the drug on the streets of Scotland.
Traffic officers signalled Nathan Cook to pull over on a routine stop but he kept travelling at speed for 33 miles before he was boxed in by four police cars on a motorway.
They then discovered the 28-year-old was transporting high purity heroin in a borrowed VW Polo.
Lord Uist said at the High Court in Edinburgh: "It is very fortunate the police decided to stop this car because it stopped 18 and a half kilos of heroin getting onto the streets.
"They are to be commended for that."
The judge told Cook: "You have pled guilty to having been concerned in the supply of a huge amount of heroin with a massive street value."
He said because he had not previously been jailed he required to get a background report on him ahead of sentencing.
Lord Uist told Cook: "You should be in no doubt when you appear on that date you are liable to be sentenced to a lengthy period of imprisonment."
Cook, of Grenfell Avenue, High Wycombe, in Buckinghamshire, admitted committing the drugs offence on March 22 last year on the A74(M) Glasgow to Carlisle Road.
Advocate depute Andrew Brown QC told the court: "This case involves the discovery of a very significant amount of heroin after a routine stop by traffic officers policing the main West Coast route from England to Scotland."
The prosecutor said that Cook was acting as a courier delivering the drugs for further cutting and distribution. The court heard the haul was worth 832,500 at wholesale value but because of its high purity, 62% to 64%, it could be adulterated and bulked out to make 7,999,300 worth of individual deals.
Officers decided to stop the northbound car and signalled it to halt with flashing lights and a siren but Cook refused to pull over and kept going from near Lockerbie, in Dumfriesshire to Elvanfoot in Lanarkshire.
Mr Brown said: "Ultimately after he had attempted unsuccessfully to leave the motorway at a number of junctions four police cars successfully boxed in Polo and brought it safely to a halt."
Cook was brought out the car and placed on the roadway and handcuffed. Packages of heroin were recovered from the vehicle.
He had originally faced further charges including one of dangerous driving containing allegations he had driven towards a police vehicle, forcing the driver to take evasive action and went onto the hard shoulder and undertook a van and trailer.
After he offered to plead guilty to the Class A drugs charge, the Crown accepted his not guilty pleas to other charges.
He was remanded in custody and will be sentenced in January next year.