Tenant farmer facing eviction reaches 'eleventh hour' extension deal
Andrew Stoddart was due to be evicted from his farm in East Lothian on Saturday.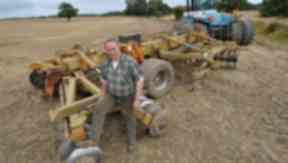 A tenant farmer facing immediate eviction after a dispute with a landowner has reached an "eleventh hour" deal to extend the time before his family must leave.
Andrew Stoddart announced his departure had been pushed back until January, and that a deal for increase compensation had been agreed.
Landowners The Coulston Trust had originally told Mr Stoddart he would have to leave Coulston Mains farm in East Lothian by November 28, after a long running dispute over a rent review.
The trust had said that it wanted "greater involvement in the running of the farm".
Mr Stoddart believed legislation on agricultural holdings passed by the Scottish Parliament in 2003 would strengthen his security of tenure, but the Supreme Court ruled in 2013 that it breached the human rights of landlords.
Legislation to correct the defect - which prevented landlords from recovering vacant possession of their farms - has since been passed and the Colstoun Trust, which owns the farm, wants it back.
A statement issued on behalf of both parties said: "Mediation has taken place between Andrew Stoddart and the Trustees.
"Representatives of the Scottish Government were in attendance but have not accepted liability for claims already intimated to them by either Mr Stoddart or the Trustees and did not mediate on these aspects.
"Mr Stoddart and the Trustees have agreed the terms for payment of Mr Stoddart's waygoing claim. They have agreed that Mr Stoddart may continue to have the use of the house, grazing land and farm buildings at Colstoun Mains Farm, Haddington, until January 2016."
Mr Stoddart, who has farmed the land for 22 years, said the settlement would protect his family from "further anxiety".
He said: "Following eleventh hour mediation, we have come to a settlement with the Colstoun Trust.
"This has been done to protect my family from further anxiety. A short period of occupancy has been agreed to allow us to remove our animals and dispose of our equipment to better advantage."
The case has been highly controversial, with a huge public campaign calling for the Trust to reverse their decision. A petition calling for the eviction to be cancelled has gained over 20,000 signatures.
The 900-acre arable and sheep farm employs two workers, who will also lose their jobs when the move goes through.
Mr Stoddart, 52, and his family were also backed by rural affairs minister Richard Lochhead.
The SNP minister said: "This agreement between Andrew Stoddart and the Colstoun Trust is very welcome and I am pleased that the mediation process brokered by the Scottish Government has helped resolve at least some of the issues facing his family and himself.
"There is no doubt that this has been an incredibly complex case with many different factors involved ranging from flawed legislation to a breakdown in relationship between landlord and tenant over many years."
Mr Stoddart paid tribute to his family and campaigners for their help in bringing the case to public attention.
"After 22 years, against considerable odds, I have left this farm better than I found it, " he said.
"It has been a hard struggle at times, and I want to pay tribute to my wife Claire who has shared the burden with me.
"We probably should have left many years ago when difficulties with the landlords began, but we never suspected it would end like this.
"We thought the 2003 Act had changed our lives, only to see our hopes dashed by the remedial order of 2014.
"The laws which allow landlords to arbitrarily end tenancies in order to access farming subsidies directly need amended.
"All we ever wanted was just to farm this place and bring up our girls in this community which we love."