Scot attacked by grizzly bear on climbing trip to Canadian Rockies
Greg Boswell, 24, climbed three hours down Mount Wilson and made it to hospital after the ordeal.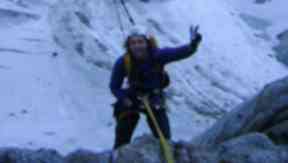 A Scots climber was attacked by a grizzly bear in Canada before climbing three hours back down a mountain and getting himself to hospital.
Greg Boswell, 24, survived the incident in the Rocky Mountains but was left with serious leg injuries.
Mr Boswell, from Cupar, Fife, was travelling with climbing partner Nick Bullock when the bear attacked on Monday.
The climbers only escaped the bear when Mr Bullock thrust his hands into it's mouth and tried to prise it's jaws open.
The pair spent three hours travelling back down Mount Wilson after escaping the grizzly before making the two-hour drive to hospital.
Following the attack, Mr Boswell wrote on Facebook: "Crazy news from Canada! I'm going to put it bluntly, but would just like to let everyone know I'm ok, just a little shook up and sore!
"I got attacked by a grizzly bear last night and lived to tell the tale and to make the three hour descent and two-hour drive to the hospital. All stitched up now and on the mend."
Canadian park rangers believe the grizzly may have awoken from its winter hibernation early because of unseasonably warm weather in the Rockies.
In a blog, Mr Bullock described the moment they first spotted the bear charging out of the woods.
He wrote: "I spun to watch Greg sprint past me and in hot pursuit was a grizzly.
"Greg ran out of sight and the carnivorous freight train passed me, snorting and growling and bounding and for a second I thought this is it, but in that second the bear had spotted Greg had fallen.
"I ran uphill as fast as the deep snow allowed. Greg fell on his back and watched the monster closing.
"It jumped. Screaming and shouting, Greg kicked at [the bear] and it bit straight though his brand new boot as if it were a carpet slipper.
"It lunged once more and crunched into his shin, placing a paw on his other leg before lifting him off the ground.
"I'm not sure at this point what other people would do, but Boswell is Boswell and the bear just didn't appreciate this, he grabbed the bears mouth and prized apart the jaws, pushing, and screaming.
"I stopped and turned. I took steps forward and out of the dark a shape ran at me. We both screamed and ran into the woods following our tracks."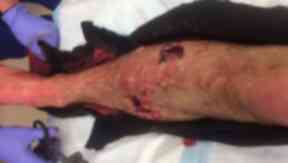 Mr Boswell's mother Tina said she feared the worst when she first learned her son had been involved in an accident.
She added: "He has quite a big hole from one of the teeth which ruptured some muscles and it took a while to stitch that up. There are five puncture wounds.
"To survive something like this is unheard of - but so is for a bear to attack for no reason."
Mr Boswell, who is staying in the Canadian resort town of Banff during the winter season, is one of Scotland's most experienced young climbers.
His website says: "His passion lies in winter climbing and pushing his limits on hard Scottish Winter routes, and it is in this area that he has become renowned."