Families affected by baby ashes scandal visit Mortonhall memorial
The walled garden features plaques inscribed with the names of 149 children and infants.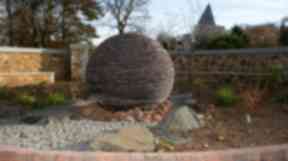 Parents of children affected by the baby ashes scandal have visited the memorial garden at Mortonhall Crematorium for the first time.
The walled garden features plaques inscribed with the names of 149 babies and infants surrounding a stone water feature and trees.
The design was chosen by parents following a series of consultation events hosted by Edinburgh Council and neonatal death charity Sands.
Dorothy Maitland, a former manager at Sands Lothians whose daughter was cremated at Mortonhall, said: "It's very important to have a memorial and I know some parents will find it very difficult to go back to Mortonhall but I'm hoping that they will change their mind when they see the garden."
The visit comes as the Scottish Government publishes new guidelines for the cremation of infants in the wake of events in Edinburgh and Aberdeen.
The National Committee on Infant Cremation's Code of Practice sets out expectations for the treatment of families, record-keeping and the recovery of ashes.
The committee was created following a wide-ranging investigation into the secret disposal of ashes at Mortonhall in Edinburgh.
It emerged in 2012 that parents had been told there would be no ashes left to scatter following the cremation of young babies and infants.
The revelation led to a year-long inquiry by former lord advocate Dame Elish Angiolini into the crematorium's practices between 1967 and 2011.
Concerns were also raised about Hazlehead Crematorium in Aberdeen, where the remains of young children were scattered in the garden of remembrance.
Investigators were unable to say whether families had been consulted in 40 instances dating back as far as 1984.
The Scottish Government plans to introduce new legislation which would introduce a legal definition of ashes and require authorities to keep records of burials and cremations indefinitely.