Final farewell for Cockenzie power station as last building flattened
Explosive demolition marks end of the road for East Lothian landmark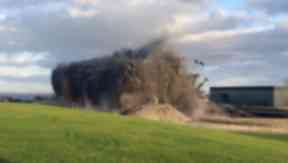 The last remaining part of one of Scotland's most recognisable landmark buildings has been demolished.
The boiler house at Cockenzie Power Station was flattened by explosives on Thursday, bringing to an end the dismantling of one of the east coast's best known structures.
The demolition marked the last phase in the two-year process of decommissioning the East Lothian powerhouse.
Earlier this year tens of thousands of spectators witnessed the end of the station's two 500ft tall chimney stacks from as far as Edinburgh and Fife.
Cockenzie Power Station opened in 1967 and was at that time the largest in Scotland.