Forensic scientist turns artist to commemorate Bosnian genocide
Robert McNeil was inspired to paint after suffering nightmares about the atrocities he witnessed.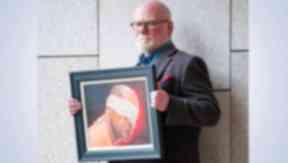 A forensic scientist who worked in Bosnia in the aftermath of the genocide has created a series of artworks inspired by his experiences.
Robert McNeil was part of a United Nations team sent to the Balkans to gather evidence of the mass killing of 8,000 men and boys at Srebrenica.
He was among the experts tasked with examining the remains of the victims in the hope of achieving closure and justice for their relatives.
Mr McNeil started painting following his retirement in 2009 after he suffered nightmares about the 1995 atrocities.
Now his powerful artworks are part of an exhibition in the members' lobby at the Scottish Parliament.
The Witness display, which will run at Holyrood until the end of the week, has been sponsored by Scottish Conservative leader Ruth Davidson, who is a board member of the charity Remembering Srebrenica Scotland.
Mr McNeil, 68, said: "People in Bosnia felt abandoned by the UN and Western politicians before, during and after the Balkans conflict and genocide in Srebrenica.
"I feel privileged, on behalf of Remembering Srebrenica, to be given the opportunity to exhibit these paintings to Scotland's politicians.
"In a small way, this highlights the enormity of responsibility placed upon our politicians when making decisions about war and protection of those affected by it.
"With Holocaust Memorial Day occurring during the exhibition, this adds further significance to a poignant occasion."
The men and boys slaughtered by Ratko Mladic's Bosnian Serb army were almost all Muslim. Mladic led an invasion of the town, which had been declared a safe area by the United Nations.
Mr McNeil has joined the board of Remembering Srebrenica Scotland, which organised a memorial service in St Giles' Cathedral in Edinburgh last year. He hopes to help the charity's work to promote tolerance and remembrance.
The Very Rev Lorna Hood, former moderator of the General Assembly of the Church of Scotland and chairwoman of the charity's Scotland board, said: "The Srebrenica genocide shamed Europe and shamed the world.
"It is one of the darkest chapters of European history, yet knowledge of what took place is still low. It is crucial we all learn the lessons from this stain on humanity's conscience.
"Hatred can destroy communities and divide families, friends and neighbours. I am delighted that Robert has agreed to join the board and help us work towards creating a better, and stronger, safer society for everyone in Scotland."
Ms Davidson said: "We all have a responsibility to know of the genocide that happened just a few hundred miles from our door - and to learn the lessons that Srebrenica can teach us in Scotland. These are lessons of tolerance, community and love.
"When recent attacks and terrorist activity have led to a rise in anti-Muslim prejudice and hate around the world, it has never been more important to learn those lessons, and to remember where such hate can lead if we do not. Robert's work is a powerful tool in this endeavour."