Meet Warren Elsmore: The man who plays with Lego for a living
Scotland's Lego expert on ditching the 'normal' day job, meeting a spaceman and breaking records.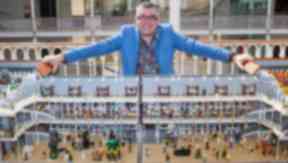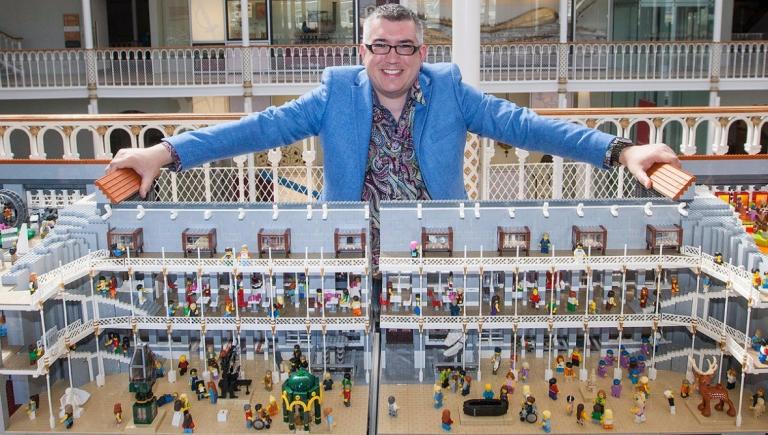 Warren Elsmore has the good fortune of having 'professional Lego builder' as his job title.
The Lego author and artist has now put the finishing touches to his latest project, a 3.5 metre model of the National Museum of Scotland.
Building the replica within the museum to celebrate the 150th anniversary of the Chambers Street building, the model took 350 hours to build using 90,000 bricks.
Tying in to the recent Build it! Adventures with Lego bricks exhibition, this has been the largest project Warren and his Lego team have ever attempted.
We caught up with him to find out what playing with Lego as an adult is really like.
What are people's reactions when you tell them you play with Lego all day for a living?
At first, people are quite surprised and wonder if I'm joking. Once they see the sort of work that we produce though, everyone is always amazed by what can be done and the fact that you can earn a living working with Lego bricks.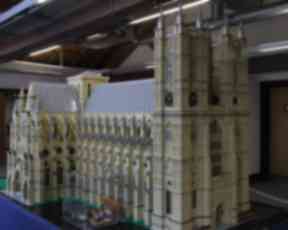 What's the day job like then?
It is really good fun. It's not a normal day job and I love it. I've done the normal day job and I don't want to go back.
What pushed you to give up the day job in IT and make Lego your full-time career?
I got my first book contract and I got loads of press from doing a model of the Olympic Park in 2012 so I thought, 'if I am going to get the chance to do it, now is the time'.
I used to work on computers and build with physical Lego bricks to relax but I now work with Lego bricks and relax by building digital models.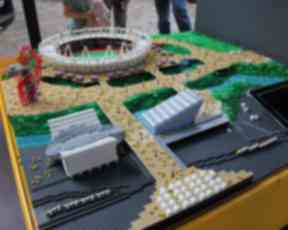 Which The Lego Movie character would you say you are most like?
Well now I build stuff for a living and we glue stuff together, which kind of makes me Lord Business.
I would like to be Vitruvius, that would be pretty cool.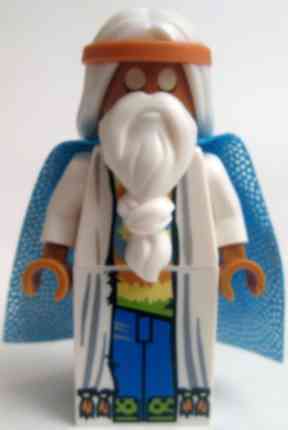 When did your love of Lego begin?
I don't know and neither do my parents. It was just always around when I was a kid and, for every birthday and every Christmas, I got Lego.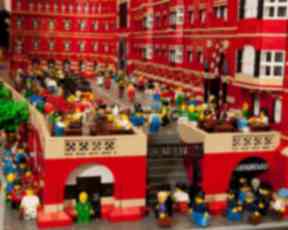 What is your most treasured possession?
I have one Lego set left from when I was a child. I stupidly sold everything when I was a teenager except for a big black truck which I absolutely love - that stays at home.
Have you ever had any Lego building disasters?
Not too many disaster moments. I did accidentally push the top section of St Pancras Station off a table once. I had to rebuild the whole [top] which was a bit of a mistake.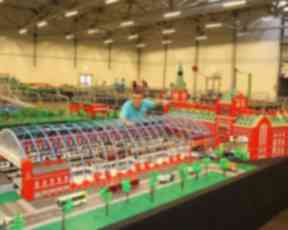 What's your favourite mini-figure?
Lego executives get a mini-fig as their business card. All the mini-figs match the people.
I have got one from Kjeld Kirk Kristiansen. He is the great-grandson of the guy who invented Lego.
What's your studio like?
Our studio is in an old primary school and we have what used to be the old school hall. Downstairs, all the walls are covered in drawers.
Everything is labelled and categorised. It speeds up what we are doing massively so we don't tend to waste time searching for bricks.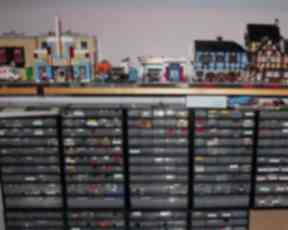 What's the strangest Lego commission you have been asked to make?
We built a roundabout for a customer, as you do. We got asked to build a London double-decker bus, life-size, in Trafalgar Square over a weekend - we didn't do that one.
Have you had any famous faces comment on your work?
I did meet a space shuttle astronaut which was cool. We put a model of the International Space Station into Paisley [where there was] a space camp.
They had a space shuttle commander giving one of the talks. As we were putting it together, he wandered over and said, 'Oh yeah, that's the Japanese engineering module, I flew that one into space'.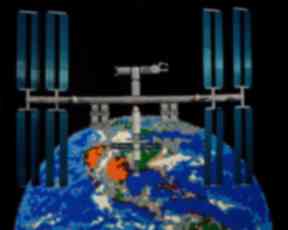 What are the most bricks you have used on any one project?
In 2012 (and this wasn't just me making it), we had an event where we created the world's largest Lego picture - it was a Guinness Record.
It was 135 square metres, a collage of lots of mini-figs, and had 660,000 pieces in it.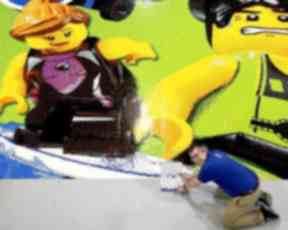 Why would you argue that Lego is for adults as well as children?
It can be really cathartic. If you are building something and concentrating on what you are doing, you can't think about anything else, like what meetings you have on at work the next day.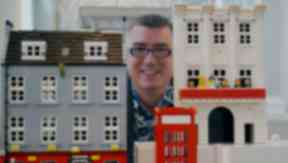 What's next on your Lego list?
We have another two books being written at the moment and another two to be written later on in the year.
And we have a couple of really exciting projects on the go, one of which will hopefully be massive and break another world record, but I can't say any more. If it happens, it will happen in about eight places.
Download: The STV News app is Scotland's favourite and is available for iPhone from the App store and for Android from Google Play. Download it today and continue to enjoy STV News wherever you are.