Second chance: Young entrepreneur talks about life after suicide attempt 
Josh Quigley is preparing for a mammoth cycling challenge after battling mental illness.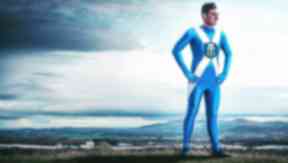 When Josh Quigley spoke down the camera lens about his suicide attempt for the first time, he paused before hitting the publish button and sharing his story with the world.
Just six months before, he had woken up in a hospital bed after deliberately crashing his car at 80mph in an attempt to end his own life.
"I just felt like someone my age had to start talking about this stuff and help other people," the 23-year-old says.
Within minutes of posting the video online, he was sifting through messages of support and encouragement in response to his very personal message.
For the last four months, Josh has been organising a 1500-mile cycle around Scotland as part of the See Me Scotland programme, where he will take part in 'mental health meet ups' across 30 towns and cities, before taking his bike on a four-year tour around the world to share his story.
Dressed in a kilt and saltire Morphsuit, Josh hopes his Tartan Explorer challenge will get more people talking about mental health and suicide prevention at home and abroad.
But while he was busy occupying himself with endurance training and projecting a positive message to his followers, deep down Josh was still struggling.
"One of the biggest problems for me this year has been focusing so much on the Tartan Explorer, getting caught up in the hype and excitement of it all and neglecting my own mental health and attention," he says.
"I had been painting this image to the world, and everyone who was following me, that I was great and I had made this amazing recovery when, in reality, I still felt suicidal nearly every day and was just hiding from my real feelings through being busy as the Tartan Explorer.
"Really I was deflecting attention from my own mental health and focusing on others as a way to neglect myself and make out to the world I was incredibly happy as that way I wouldn't have to face my own inner demons and problems.
"Now that mask has been ripped away and I'm now finally being open and honest with myself about my own mental health.
"So now I've put myself first and have made the Tartan Explorer all about my own personal journey rather than just raising awareness to help others."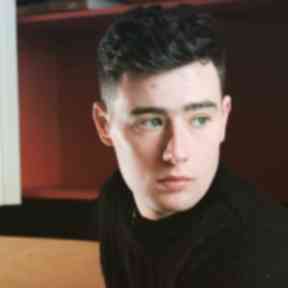 Josh says his denial about his depression at a time when he was, on paper, doing really well after picking up an entrepreneur of the year award for his work with his business SharkDog, was all fed from a stigma he had surrounding mental health.
Even when a few friends directly asked him if he was struggling with depression, he was adamant in his denial.
"I didn't think I was the type of person who could have a mental health problem or suffer from depression," he says. "I was a very high achiever and I seemed to be doing really well.
"Looking back now, I did have depression but I was part of the stigma where people don't want to admit."
For the six months leading up to his attempted suicide, Josh slowly felt the previous passion he had for his business fade and everyday tasks becoming overwhelming.
"In the morning, you would wake up and it felt like all the colour had been sucked out of your life," he says.
"I had no motivation or passion to do anything."
After a series of sleepless nights, Josh woke at 1am on May 26 with a sense of hopelessness. He got in his car and intentionally crashed it.
"I just knew it was going to be another full night up, tossing and turning and not having enough sleep for work the next day and I just thought, 'I can't go through that again' and I made an impulse decision."
When Josh woke in hospital, he felt a mix of embarrassment and disappointed. But, after a few days, the realisation that he was unscathed of any physical injuries had a profound impact on him.
"When I found out there was generally nothing wrong with me, I started to question it," he says.
"It was this realisation that I've been very lucky - it was through that I thought I had been given a second chance."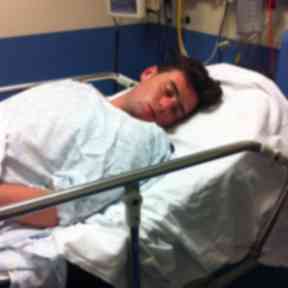 Since sharing his story, Josh says the messages of support have given him the boost to continue his long and open road to recovery.
"I have been getting messages from people saying they have mental health problems and my story has inspired them to get help," says Josh.
"I've had people who I have inspired to go and study mental health nursing and I've had people who have said they were going to kill themselves but didn't because of the video.
"It's the best feeling in the world, getting to make a difference in other people's lives."
Josh says he is under no illusion that his Scottish and world cycle trips are going to be difficult for him, both physically and mentally.
On March 24, he will launch a crowdfunder where he hopes to raise £125,000 for his world cycle, taking in 75 countries over six continents.
Then on March 25, he will set off from his home town in Livingston for the start of his Scottish cycle.
"I just got my first bike a month ago," he says. "I wanted to show that I am not a cyclist so if I can cycle the world one year after I tried to kill myself then what can somebody else do?"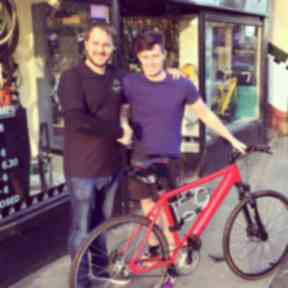 While he is hopeful that opening up about his story will inspire others, Josh says he is more determined than ever to make sure his own mental health is given his top priority.
"For too long I've blamed other people or external situations. This allowed me to abdicate any responsibility for my own mental health.
"So I never took any action to change or improve how I felt. Now I've realised it's up to me and it's been so empowering. We're in control of how we think and feel, that's been a game-changing moment for me.
"When you feel suicidal you think that's your only option, but I believe that there is another way. And that will be the key message that I take around the world - that there is another way.
"I will be living proof of that."