Two men arrested after footage of fox hunt handed to police
The League Against Cruel Sports recorded the footage in the Scottish Borders.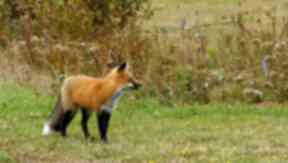 Two men have been charged after video footage of a hunt in the Scottish Borders was passed on to police.
The League Against Cruel Sports alleged that the film of the Jed Forest Hunt shows hounds in pursuit of fleeing foxes.
Police arrested two men, aged 23 and 65, after reviewing the footage.
A ban on hunting with dogs was imposed in Scotland in 2002 after campaigners argued that the practice is unnecessary and brings about long-lasting psychological trauma for animals.
The law states that dogs can be used in certain circumstances - in order to bring foxes from below ground and out into the open, a practice known as 'flushing to guns'.
The anti-hunting charity, however, believes that at least half of Scotland's registered hunts continue to flout the 2002 ban.
Robbie Marsland, director of League Against Cruel Sports in Scotland, said: "Our latest footage strongly suggests that many of Scotland's hunts are trying to pull the wool over our eyes.
"This is not an issue of poor police enforcement. It is all too easy for Scottish hunts to ride a coach and horses through this well-intended law.
"We are convinced that hunts are using flushing to guns with a full pack of hounds in an attempt to provide a false alibi.
"A number of simple changes to the law would put an end to the spectre of packs of hounds being spurred on to chase and kill foxes across the Scottish countryside."
Hunting laws were under the spotlight during the 2015 UK General Election, with the Conservatives promising to lift the ban in England and Wales if they returned to power.
The plans were shelved after the SNP vowed to vote against any measures to relax the current laws.
Meanwhile, fox hunting laws in Scotland are currently under review with the deadline for written evidence submissions on March 31.
Jamie Stewart, director for the Scottish Countryside Alliance, said: "Every one of the packs in Scotland are registered under protocol which dictates that there will be guns present that day."
A police spokesman said: "Police Scotland has charged two men under Section 1(1) of The Protection of Wild Mammals (Scotland) Act 2002.
"Both men will appear at Jedburgh Sheriff Court at a later date.
"We work closely with a range of partners to tackle wildlife crime. We would urge members of the public to report any suspicious activity to us as quickly as possible to allow us to investigate suspected crimes promptly."