Campaigners hit out at 'shambles' on the Borders Railway
Just 28% of services arrived on time at the start of August, new ScotRail figures reveal.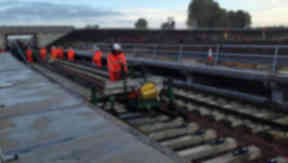 Campaigners have hit out at the "shambles" on the Borders Railway as just 28% of trains arrived on time at the start of August.
New ScotRail figures also revealed more than 70 trains were cancelled over the first ten days of the month.
Blame was placed on various problems including track and train faults, a driver on sick leave and a fallen tree.
ScotRail said the Borders Railway is subject to "occasional technical faults" in common with the rest of the network.
The line, which was launched in September last year, has had more passengers than expected.
Rail consultant and author David Spaven told the Scotland on Sunday a lack of double-track sections of line where trains can pass each other had hit reliability badly.
He said: "The Borders Railway has proved to be a classic penny-wise, pound-foolish project. Poor official traffic forecasts have proved to have underestimated passenger numbers by nearly 900%.
"The ludicrously pessimistic forecasts contributed to a supposedly poor 'business case', which in turn led to the Scottish Government's accountants chopping back the infrastructure specification - and we are now reaping the whirlwind.
"Taken together with the poor performance of the Class 158 trains, and frequent failures of track and signalling equipment, there is now a clear case for an official inquiry to find out how this shambles was allowed to develop, who the culprits were and why the concerns expressed by rail campaigners years ago were ignored."
Former Campaign for Borders Railway treasurer Bill Jamieson, who monitors its performance, said: "The most worrying aspect is the unreliability, both in terms of the number of cancellations which occur and the way the delays from one late-running train can be propagated for hours thanks to the high proportion of single-track."
A ScotRail spokeswoman said: "As with other parts of the network, the Borders line is subject to occasional technical faults.
"As always, we do everything we can to keep customers moving when things go wrong and we're working to ensure reliability matches the demand for services on this new line."
A Transport Scotland spokesman said: "We are committed to ensuring ScotRail delivers a punctual and reliable rail service across the network and that they address issues around punctuality to give passengers the very best service possible."
Download: The STV News app is Scotland's favourite and is available for iPhone from the App store and for Android from Google Play. Download it today and continue to enjoy STV News wherever you are.