Criminal Justice Bill faces a rough ride through Holyrood
MSPs reject plans to stop short jail sentences, while Labour calls for mandatory prison terms to be handed to knife criminals.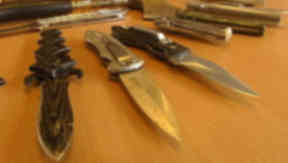 MSPs have rejected plans which would imposed a presumption against prison sentences shorter than six months.
Members of Holyrood's Justice Committee questioned claims that the move would affect offending rates. However, they backed the general principles of the bill, meaning it can now proceed through parliament.
A Committee report released on Thursday highlights evidence that short prison sentences can deter criminals from reoffending, sometimes in cases where community sentences have failed to change their behaviour.
It added: "They (MSPs) also question the assumption that short-term sentences are currently given out where better alternatives exist and hence doubt that a statutory presumption will make any real difference."
The bill suggests judges should not impose a prison sentence of under six months unless there is no other available option. They would then be required to outline the justification for handing down a custodial term.
The proposal was rejected by Labour and the Tories and supported by the Nationalists and the Lib Dems, before finally being rejected on the casting vote of convener Bill Aitken.
Justice Secretary Kenny MacAskill welcomed the general support for the bill but said he still believed presumption was the right thing.
He said: "Sentences of six months or less are not working. They do nothing to stop offending behaviour, and the report itself acknowledges that short sentences have limited effect as a deterrent.
"It is clear that more and more people are agreeing with the Scottish Government's position and we will continue to work to build on that growing consensus as the Bill progresses through the parliamentary process."
However, opponents called on Mr MacAskill to drop the proposals before the bill progresses to the chamber.
Labour justice spokesman Richard Baker said: "The SNP need to completely rethink their approach. This is another disaster of Mr MacAskill's making. If Mr MacAskill does not change his mind after this report then Labour will fight these proposals."
Lib Dem Committee Member Robert Brown, who voted in favour of the plan, said he would prefer to see the presumption policy applied to sentences under three months.
Although the bill will pass to Parliament, MSPs questioned whether plans to create a sentencing council to guide judges could be justified in the current financial climate.
The move would cost around £450,000 to create and would have annual running costs of £1 million. The council's chief executive would be paid £97,000 a year.
The committee also called for further explanation about plans to remove a rule which excuses people from giving evidence against their spouse, saying it could leave husbands and wives facing contempt of court charges.
And Labour has revealed it will table an amendment to make jail sentences mandatory for knife criminals when the bill comes before Holyrood.