Online archive celebrates Treasure Island author
Website launched in Edinburgh remembers life and work of famous city son, Robert Louis Stevenson.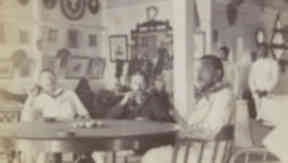 Robert Louis Stevenson, centre, pictured at the King's Boat House. Image Courtesy of the Capital Collections.
The life and work of one of Scotland's most famous authors has been documented for the first time in a huge online archive.
A new website dedicated to Robert Louis Stevenson was launched in Edinburgh on Friday to mark the anniversary of the author's birthday.
As well as a huge collection of his written work, including some previously unseen stories, the site features letters, photographs and other personal materials, drawn from collections held across the globe.
The project was led by Edinburgh Napier University following a £34,500 grant from the Carnegie Trust.
The writer is well known for his novel, Treasure Island, but the experts behind the site hope to boost recognition of the writer's full range of work.
Professor Linda Dryden from Edinburgh Napier's Centre for Literature and Writing oversaw the scheme. She said: "We all know and love the magic and adventure of Robert Louis Stevenson's adventure stories, like Treasure Island, Kidnapped and Dr Jekyll and Mr Hyde.
"What isn't as well recognised, outside of Stevenson enthusiast circles at least, is the wonderful and tremendously eclectic and original back catalogue of work, which includes poetry, children's books, travel writing, historical novels and literary essays.
"Edinburgh Napier is hugely grateful to the Carnegie Trust for funding this project and very excited to be opening the door to the neglected works of one of the finest writers of the 19th Century."
Professor Andrew Miller, secretary of the Carnegie Trust for the Universities of Scotland adds: "We are absolutely delighted to be involved in a project of such great literary importance.
"Despite influencing some of the greatest writers of our time and creating a volume of superbly written and incredibly varied material, Robert Louis Stevenson's literary reputation has suffered and he is often known purely as an adventure story writer.
"We think this website will go some way towards reviving his well deserved reputation and, importantly, allowing many more people, the world over, to enjoy this wonderful collection."
Robert Louis Stevenson was born in Edinburgh in 1850, however, experts say he is not fully appreciated in his home city and much of his work has never before been seen in Scotland.
John Macfie, Chairman of the Robert Louis Stevenson Club explained: "Robert Louis Stevenson's short life tragically ended in Samoa. His American-born wife took much of his original writings back to the States with her.
"The room devoted to Robert Louis Stevenson in the Writers' Museum in Edinburgh is currently the only collection of Stevenson material in Europe. What this website does for the first time, is connect the collection of works held by the city with the wider and less well known collection in America."