Former youth footballer tells of sexual abuse by Scots coach
Colin Anderson says he was raped by Gordon Neely in Edinburgh in the 1980s.
A former youth footballer who claims he was sexually assaulted by a coach has described the devastating impact it has had on his life.
Colin Anderson said abuse he suffered when he was 13 led to a suicide attempt and years of addiction to drink and drugs.
Mr Anderson told STV News he was raped by Gordon Neely when he played for Edinburgh youth side Hutchison Vale in the 1980s.
He has waived his right to anonymity in the hope it will help other victims of Neely, who died two years ago.
Mr Anderson has since spoken to police about the abuse he claims to have suffered.
Recently a former player told a newspaper Neely abused boys at Hibs youth training camps.
Speaking to STV News, Mr Anderson said his family were delighted when he was first signed by Hutchison Vale FC.
He said: "They (Hutchison Vale) were then, and still are, the best there is. My father was able to puff his chest out a bit and say 'that's my son signed for Hutchie'."
Neely took over as coach of the youth team after Mr Anderson was signed to the side, and he was initially impressed by the coach.
Mr Anderson said: "He had everything worked out for the training plans. We went from training once a week to twice a week."
He described how Neely would play a game, which he initially thought was innocent, where he would grab the boys by their legs.
Mr Anderson said: "To begin with there was nothing sexual, he was just a normal everyday football coach."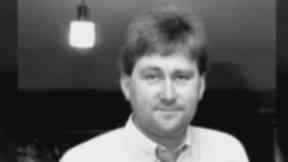 Neely also took members of the squad to a training centre at Dalguise in Perthshire for weekend training sessions.
Mr Anderson said: "It was looked upon as a wee holiday."
Other allegations of abuse by Neely are said to have taken place at the training ground but Mr Anderson said the coach abused him at the youth club's facility in Edinburgh.
He said: "The abuse itself all occurred in Hutchison Vale's training facility at Ford's Road."
The 49-year-old said his former coach raped him twice when he took him to the facility for treatment for a knee condition.
Mr Anderson described the "terrible" impact the abuse had on him: "I was expelled from school. Another school took me on up by my grandmother's... I didn't want to go to school.
"I became angry, anything would set me off. I felt dirty but I knew I couldn't go telling anybody.
"Not that I was worried I wouldn't be believed but I knew the consequences of my father finding out or my mother... she's beside herself now."
He said he did not tell anyone at the time as he was worried his father would kill Neely.
"I know now, from having my own children, I would've swept him off the face of the earth if he'd done it to any of my kids," he said.
"So I could understand how my dad would have felt."
He continued: "It had a massive impact on my life. I tried to kill myself when I was 22 by cutting myself. I felt angry through my 20s, got a bit of a police record because of it, I drank a lot. I felt dirty.
"I became a drug addict at 30, which went on for 15 years. I've been clean for two years now. I lost the love of my life, I lost waking up to my kids in my own house."
Mr Anderson said:"It's a heavy, heavy, heavy burden to carry around."
Hutchison Vale has said it was "disturbed and upset" by the allegations and promised to support any investigation which takes place.
The club stated: "We are disturbed and upset to hear the reported comments from our former player Colin Anderson.
"Gordon Neely was at Hutchison Vale more than 30 years ago and there is no record of any complaints made about him, to the club during that time. However, we will of course support any investigation that is now undertaken.
"Today, all of our coaches are registered with the Protecting Vulnerable Groups scheme and we have a dedicated child protection officer at the club. We take the safety of our boys and girls more seriously than any other matter.
"It is time for football more widely to put the safety of children above all other interests and we will play whatever role we can to build confidence in the game and keep providing opportunities for young people to enjoy football in a safe and secure environment."
If you have been affected by the issues in this story, you can contact the NSPCC helpline on 0800 023 2642.
You can also share your experience with STV News, by emailing web@stv.tv or by calling the newsdesk on 0141 300 3360.
All information will be treated in the strictest confidence.
Download: The STV News app is Scotland's favourite and is available for iPhone from the App store and for Android from Google Play. Download it today and continue to enjoy STV News wherever you are.