Mother of missing RAF gunner says he is 'social hand grenade'
Corrie McKeague was reported missing after not returning to RAF base following night out.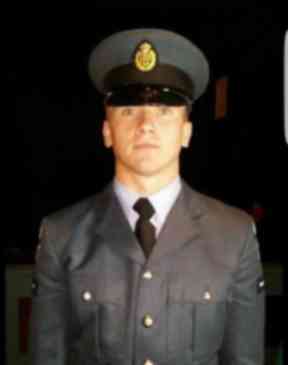 The mother of an RAF gunner missing for over three months has described him as a "social hand grenade".
Corrie McKeague, from Dunfermline, Fife, has not been seen since the early hours of Saturday, September 24, after going on a night out in Bury St Edmunds.
The 23-year-old was reported missing when he failed to turn up at his base, RAF Honington, ten miles from the town.
CCTV images of potential witnesses were released earlier this month in the hope they "hold a clue" in the search to find the missing serviceman. The people were pictured between 3.15am and 5.20am on that Saturday morning.
His mother Nicola Urquhart answered questions through a Facebook Live video on Thursday in which she describes Mr McKeague as someone who would "put himself at risk because Corrie believed he could handle himself."
She said: "He's not so much a social butterfly, more a social hand grenade who absolutely lives for the moment.
"He will make choices and decisions that are sometimes reckless that other people might not.
"Would he get into a stranger's car? Yes. Would he go to a stranger's house that he's never met before that he's met on a social dating site? Yes.
"He would put himself at risk because Corrie believed he could handle himself."
Detective superintendent Katie Elliott said: "Officers have trawled through hundreds of hours of CCTV images and then carried out considerable work to identify everyone who was in the area around the time that Corrie disappeared.
"As you'll see from the images, some are of better quality than others, but it is important that we identify everyone who was in the area in the early hours of Saturday, September 24, as someone could, unknowingly, hold a clue that can help us find Corrie.
"It should be stressed that these are just potential witnesses and it's possible they may not be aware that they may be able to assist but we are trying to rule out possibilities and therefore we do need to speak to you."
A crowdfunding campaign to hire a private investigator to search for her son exceeded its £20,000 target in less than two days.
The JustGiving page was set up by Cheryl Hickman, who runs the Suffolk hotel where Mrs Urquhart has been staying since her son went missing.
Temporary assistant chief constable Louisa Pepper said she has "absolute confidence" in her team and she insisted similar resources are being put into the search as would be used for a murder investigation.
The fundraising page says donations will be used to fund the appointment of a private investigator and a data analyst to go through the information gathered.
Mr McKeague's grandparents earlier pledged a "five-figure reward" for information leading to his safe return.