Lothian Buses could pay £20m towards tram extension
The Unite union says the 'risky' move would be 'robbing Peter to pay Paul'.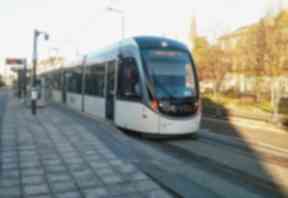 Concerns have been raised over a "risky" plan for Lothian Buses to put £20m towards an extension to the Edinburgh tram network.
Members of Unite the union hit out as councillors discussed the 2017-2021 strategy for Transport for Edinburgh (TfE).
The arms-length company, which is wholly owned by Edinburgh City Council, owns 100% of the shares in Edinburgh Trams and more than 90% of the shares in Lothian Buses.
The remainder of the Lothian Buses shares are owned by East Lothian, West Lothian and Midlothian councils.
The strategy said it sets out to "empower TfE and its subsidiary companies" to safeguard Edinburgh City Council's investment in transport across the capital.
The document also includes the Lothian Buses business plan, which acknowledges plans for an "extraordinary dividend" of £20m as well as an annual contribution of £6m to TfE.
Lothian Buses bosses outlined the contribution was a "risk", prompting union members to warn the move would threaten services and prompt an increase in fares.
The city council's executive director of place, Paul Lawrence, told Tuesday's transport committee: "The matter of payment for an annual dividend or an extraordinary dividend is a matter for the board of Lothian Buses.
"Their business plan is a prudent plan, and it also sets out the financial priorities for Lothian Buses."
Mr Lawrence said he would expect the board to examine the risks in more detail ahead of any discussion about extending the tram line to Leith and Newhaven.
The controversial tram project is expected to return to the agenda after the May elections later this year.
Unite regional officer Tony Trench said the plan risked "robbing Peter to pay Paul".
He said: "We support investment in the future of Edinburgh Trams. Our members there are working hard and doing an excellent job serving local people and visitors to the city.
"But that investment shouldn't be at the expense of Lothian Buses. Lothian Buses have been clear - these plans carry risk.
"If the result is increased fares and cuts to routes and fleet investment, then it is city councillors who will carry the blame."
Unite said there were "more sustainable" ways of raising finance for the project, adding: "Simply robbing Peter to pay Paul is short-sighted and dangerous."
The union also repeated its call for Transport for Edinburgh (TfE) to be scrapped, saying the company's yearly costs of nearly £500,000 cannot be justified.
It said its members had set up a new group to lobby and defend the city's public transport networks.
Download: The STV News app is Scotland's favourite and is available for iPhone from the App store and for Android from Google Play. Download it today and continue to enjoy STV News wherever you are.