Probe into Sheku Bayoh's death 'was fundamentally flawed'
Family claim police watchdog's investigation breached human rights laws.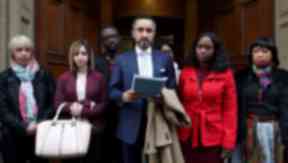 Relatives of a man who died in custody almost two years ago believe a police watchdog's probe into his death was "fundamentally flawed".
Sheku Bayoh's family claim an investigation by the Police Investigations and Review Commissioner (Pirc) lacked certain safeguards and allege there has been a breach of human rights laws.
The Pirc's full report was submitted to the Crown Office in August last year.
Prosecutors working on the "complex" inquiry have still to determine whether there should be any criminal proceedings raised in respect of Mr Bayoh's death, but have pledged to reach their decision as quickly as possible.
The 31-year-old trainee gas engineer died after being restrained by officers responding to a call in Kirkcaldy, Fife, on May 3, 2015.
He was under the influence of drugs at the time of the incident.
Solicitor Aamer Anwar spoke on behalf of Mr Bayoh's family after they met Lord Advocate James Wolffe QC on Wednesday afternoon.
He said they retain "total confidence" in the Lord Advocate - Scotland's top prosecutor - but expect him to take "whatever action is necessary".
He added: "Sheku's family told the Lord Advocate today that they believe Pirc's investigation to be fundamentally flawed and lacking the necessary safeguards for an effective independent investigation into a death in custody - thus violating Article 2 of the European Convention on Human Rights (ECHR).
"In a democracy, police officers are duty bound to protect the right to life and where deaths occur under their responsibility they must account for their actions."
Article 2 of the ECHR protects the right to life. Mr Bayoh's partner, Collette Bell, his sisters Kadi Johnson, Adama Jalloh and Kosna Bayoh, and brother-in-law Ade Johnson attended the meeting in Edinburgh.
Mr Anwar suggested issues raised could delay the Lord Advocate's final decision on whether there will be any criminal proceedings.
A fatal accident inquiry into the death will be held irrespective of any criminal proceedings.
Relatives of Mr Bayoh also intend to launch a civil action against Police Scotland.
A Pirc spokesman said: "At all stages throughout this independent investigation, the Pirc has acted under the direction of the Lord Advocate, who has ultimate responsibility for the investigation of unexplained deaths in Scotland.
"The commissioner submitted a comprehensive report to the Lord Advocate in August last year in order that he can make informed decisions on any further action."
Assistant chief constable Wayne Mawson said: "Police Scotland has been committed to co-operating with the Pirc and the Crown Office throughout the investigative process.
"Our sympathies remain with Sheku Bayoh's family and friends. All those involved in or affected by this tragic incident continue to be offered support.
"As we have previously stated, we cannot comment on the events of May 3, 2015, while the Crown evaluates the independent findings submitted by Pirc."
A Crown Office spokesman said: "The Lord Advocate met with Sheku Bayoh's family today to discuss the case with them.
"As this is a live investigation, it would be inappropriate to comment further."
Download: The STV News app is Scotland's favourite and is available for iPhone from the App store and for Android from Google Play. Download it today and continue to enjoy STV News wherever you are.