Silent fireworks proposal would 'disappoint audiences'
Edinburgh council had been asked to consider the impact of large displays.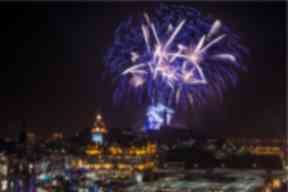 Using silent fireworks for Edinburgh's major displays would let down large audiences, a council report has found.
In December, councillor Joanna Mowat asked the local authority to consider using silent pyrotechnics for events such as Hogmanay and the end of the Edinburgh Festival.
Councillor Mowat's motion claimed there was an "impact from these regular fireworks on the residents living close to the launch sites".

She called for a report into how displays affected residents and if silent fireworks would reduce the impact.
But the report, which will go before a council committee next week, found "explosions and loud bangs" were an essential part of the experience.
And throughout 2016, there were only 11 complaints from residents about noisy fireworks.
The report also said there was no evidence of damage to Edinburgh Castle from fireworks and found displays had little impact on the well-being of residents or animals.
Quiet fireworks - those which create less than 120 decibels of noise - lack propellants and cannot go very far.
The report said: "A fireworks display which comprised solely of 'quiet' fireworks would be limited in height, and therefore in the range from which people could view it.
"It would also be of reduced impact in terms of the drama and spectacle that people associate with large-scale firework displays, and the expectations that contemporary audiences bring to such shows."
The alternative of using a laser show would "lack the 'big bang' literally and figuratively of an aerial fireworks display," the report found.
Professor Dr John Conkling, a leading expert on pyrotechnics is quoted in the report as saying: "Because they do not include big aerial explosions, quiet shows cannot entertain a large audience."
The report concluded: "The public who attend large-scale fireworks displays expect to hear explosions and loud bangs as part of the experience, and these add to the sense of occasion and celebration which organisers endeavour to create."