Safe return of humpback whales to Scotland under threat
The huge mammals are at risk of getting caught in creel fishing ropes.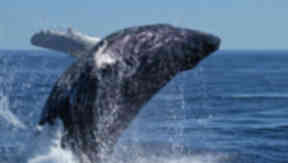 The safe return to Scottish waters of humpback whales is under threat, according to an international report.
The whales, which are among the largest animals in the world, are being spotted around the east coast in greater numbers but experts have warned they are at risk from becoming entangled in fishing gear.
A new code of practice is now being prepared for a thousand Scottish fishermen.
The report, published by the International Whaling Commission, says Scottish inshore waters present a high mortality risk for humpbacks, making their presence here "unsustainable."
The commission is the international whale conservation body and includes 88 member governments around the world.
Humpbacks were once hunted to the brink of extinction but recent years have seen a slight increase in sightings around Scotland.
Several have been seen in the Firth of Forth this year.
Dr Steven Benjamins, of the Scottish Association for Marine Science, told STV News: "Several humpback whales were caught in the years between 1900 and 1930.
"For decades after that the species was unrecorded in Scottish waters.
"What we are seeing is a slight but noticeable increase in the reports."
The new code of practice tells creel fishermen how to avoid catching a whale and what to do if it happens.
Entanglements can be a danger to fishing boats as the huge animals, which can grow up to 52ft long, can cause the vessels to capsize.
Five years ago, a humpback whale got caught up in fishing ropes near Dunbar in East Lothian before being cut free.
Amy Niven, of British Divers Marine Life Rescue, said: "Because they have very long pectoral fins, that's the arm fin, and very deep mouth grooves they can get entangled in those ropes quite easily.
"If they get stationary the whale can't get to the surface and drown.
"And if it's able to break free and take some of that fishing gear with it, it will survive for a days, but it will slow the animal down and disturb its feeding."
The guidelines could save other animals such as basking sharks, minke whales and leatherback turtles.
Alistair Sinclair, of the Scottish Creel Fishermen's Federation, told STV News: "If they're out in a boat they shouldn't get themselves involved because we know of some horrendous stories of people trying to save them but they can capsize boats.
"One entanglement is an entanglement too much. We can't control strandings. That's a freak of nature.
"But the animals that do exist out there, we've got to foster a good home for them."
Download: The STV News app is Scotland's favourite and is available for iPhone from the App store and for Android from Google Play. Download it today and continue to enjoy STV News wherever you are.