Services to take place for Battle of Arras centenary
The Great War battle around a French town saw thousands of soldiers killed.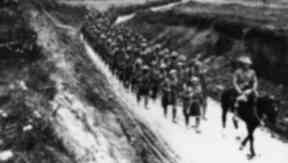 Ceremonies will be held on Sunday to mark the centenary of the Battle of Arras, a major conflict in the First World War.
Events will take place in Edinburgh and France, 100 years on from the British-led offensive.
On Sunday morning, the moderator of the General Assembly of the Church of Scotland and his wife will attend a ceremony in the French town of Arras.
A service will be held at the Scottish National War Memorial at 6.30pm, afterwards Royal Marines musicians will play a beating retreat on the Edinburgh Castle esplanade.
The Battle of Arras, which lasted from April 9 to May 16, had an average daily death toll of 4076.
In total 159,000 allied soldiers died, with 18,800 Scots killed.
The right rev Dr Russell Barr will lead prayers in the French town and his wife Margaret plans to lay flowers on the grave of one of her great-unlces, who died in the battle.
Earlier, she said: "It's a huge privilege to go out to Arras and represent the family, and to lay a wreath.
"It will be quite poignant. I will go and see his grave at Duisans cemetery and lay flowers there.
"I think my father would be very proud and happy that one of his family will be there at the ceremony. It will be a very emotional day."