Man neglected his dog who was left covered in scabs
Ozzy the Staffordshire bull terrier was left covered in scabs and had overgrown claws.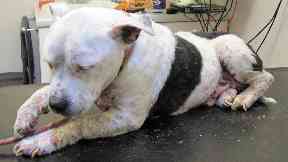 A man who neglected his suffering dog and left it covered with scabs has been banned from owning pets.
Gordon Davey failed to treat the Staffordshire bull terrier's skin infection, ear infections and overgrown claws for two months last year.
The 29-year-old, of Dunfermline, was barred from owning animals for five years at the town's sheriff court on Wednesday.
The Scottish SPCA said Ozzy had been suffering for a "considerable length of time".
Inspector Nicola Liddell said: "Upon entering the property, it was immediately apparent that Ozzy was in a very poor neglected state.
"He was suffering from a chronic skin condition affecting his body, limbs, and face.
His coat and skin was covered in scabs resulting in hair loss to his paws and underside, with weeping pustules and scabs on the exposed skin. Both ears had internal scabs and thick discharge around his ear canals.
"Ozzy's claws were grossly overgrown, curving round towards his pads and he was very reluctant to stand even with encouragement and treats.
"Further veterinary examination confirmed that Ozzy had been suffering for a considerable length of time - the claw growth would have taken at least nine months.
"We are delighted that Davey has been dealt with by the courts and hope he will give serious consideration to his ability to care for animals in the future."