Armed police raid after gunman fires shots at house
Officers carrying rifles stormed a house in Duddingston, Edinburgh, on Monday.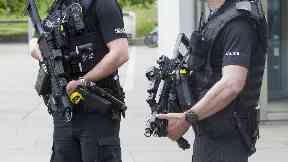 Armed police raided a house in Edinburgh following a shooting incident in a Midlothian town.
Officers carrying rifles stormed a home on Meadowfield Terrace, Duddingston, in the early hours of Monday.
The raid followed a shooting incident on Woodburn Road in Dalkeith, eight miles outside the city, on Sunday.
Police said the Dalkeith incident, in which a gunman fired shots at a house, was a targeted attack.
A Police Scotland spokeswoman said: "We are currently conducting a search of a property in the Duddingston area as part of the investigation into a firearms discharge in Dalkeith on Sunday.
"Inquiries are continuing."