Father and son fined for foxhunting in Scots legal first
John Clive Richardson and Jonathan Riley were found guilty after video shown to court.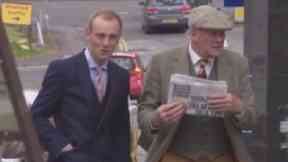 A father and son from the Borders have been found guilty of illegal mounted foxhunting in the first successful prosecution of its kind in Scotland.
John Clive Richardson, 67, and his 24-year-old son Jonathan Riley were convicted at Jedburgh Sheriff Court on Thursday of foxhunting on horseback.
They had denied foxhunting on land near the Scottish Borders town in February 2016 but were found guilty after the court saw video taken by the League Against Cruel Sports Scotland (LACSS).
Richardson was fined £400 and Riley £250.
Robbie Marsland, director of LACSS said: "Today's guilty verdict is the first successful prosecution for mounted foxhunting in Scotland and while we're delighted with the outcome, and our role in this, we remain of the view that the law needs strengthened.
"We look forward to working with the Scottish Government to strengthen the law and hope today sends a clear message to hunts that flouting the law will not be tolerated and those who continue to hunt illegally in Scotland will be brought to justice."