Thief got locked inside Scotmid during overnight raid
John Kidd was caught stealing cash and cigarettes from the shop in Midlothian.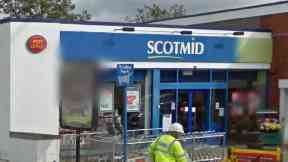 A thief got locked inside a shop after sneaking in behind night-shift workers and hiding until they left in the early hours.
John Kidd found himself trapped in the Scotmid store on Hunterfield Road in Gorebridge, Midlothian, on March 22 after workers locked the door behind them.
The 35-year-old, who is currently a prisoner in HMP Edinburgh, was jailed for 14 months on Friday.
He had previously pled guilty at Edinburgh Sheriff Court to stealing cash and cigarettes and smashing a window.
The night-shift employees left a rear door of the store unlocked and Kidd took advantage by hiding himself inside until the staff left.
Fiscal depute Naomi Warner told Sheriff Peter Braid that CCTV footage showed Kidd walking down the aisles breaking into tills and putting cash into his pocket and a rucksack.
He was also seen forcing the shutters of the cigarette counter and stealing several packets.
When he found the door he had come in by had been locked he tried to force his way out by a fire exit door.
When this was unsuccessful he smashed a window and tried to kick his way out but his escape efforts set off the alarm and alerted police who arrived soon after.
Kidd's stolen haul of 65 packets of cigarettes and cash was valued at £750 and there was a full recovery.
At his sentencing on Friday, Mr Braid told Kidd he had no other option but to send him to prison.