Great British Bake Off judge named university chancellor
Prue Leith took up role at Queen Margaret University near Edinburgh on Tuesday.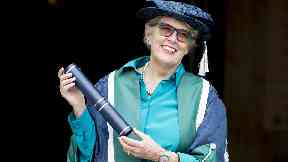 New Great British Bake Off judge Prue Leith has been named the chancellor of a Scottish university.
She was bestowed with the ceremonial role at Queen Margaret University near Edinburgh during a graduation event on Tuesday.
Ms Leith left her native South Africa to study at the Cordon Bleu cookery school in London before opening her Michelin-star restaurant and catering school.
She was made a CBE in 2010 for her services to the catering industry.
Leith will replace Mary Berry as a judge in the new series of the Great British Bake Off, which will air this autumn on Channel 4.
Principal Petra Wend said: "Prue Leith is a highly respected public figure who has strong beliefs about the importance of education and in its transformational impact on society.
"She has contributed significantly to the food and hospitality landscape of the UK, having worked successfully as a food entrepreneur, as well as highlighting the UK's culinary talent and promoting good food health for all.
"She has become concerned about the care and rights of people who are elderly or dying, and is involved with the 'Dignity in Dying' campaign and the Campaign for Better Hospital Food."
Film producer Iain Smith, whose work includes the Fifth Element and Mad Max: Fury Road, was also presented with an honorary doctorate during the ceremony at the Usher Hall in Edinburgh.