Prisoner who absconded from court was not in handcuffs
Steven McGovern's arm was in a sling when his case called in Edinburgh.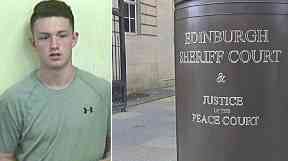 A prisoner who escaped from custody at Edinburgh Sheriff Court was not in handcuffs at the time.
Steven McGovern, 18, was being escorted to a G4S van after appearing in court when he absconded.
His arm was in a sling at the time and he was not in handcuffs when his case called on Monday afternoon.
It is understood the accused was appearing on road traffic charges and had received hospital treatment the previous night after being involved in a collision.
Police have launched an appeal to trace McGovern, who was last seen in the Grassmarket around 5pm.
G4S said it is working to trace the prisoner, who has links to Drylaw.
The firm's court escorting operations director, Willie Galloway, said: "Shortly after 5pm on July 10 at Edinburgh Sheriff Court, a prisoner absconded from custody as they were being escorted on to a vehicle.
"We notified Police Scotland and the Scottish Prison Service and are working with them to recapture this individual as soon as possible.
"While our focus is on supporting the police to re-apprehend this individual, we will work with the court and other relevant authorities to understand the circumstances surrounding this incident and establish what happened."
McGovern is described as around 5ft 7in, with brown hair. He was wearing a green hooded Lacoste tracksuit, blue T-shirt and green trainers.
Anyone with information is asked to contact the police on 101.