Neglected dog's bones could be seen sticking out of skin
William Dobbie, of Bathgate in West Lothian, has been banned from keeping pets.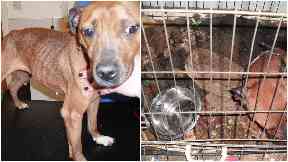 A man who neglected his three dogs, one so badly her bones could be seen through her skin, has been banned from owning or keeping animals.
William Dobbie, 30, of Dundas Street in Bathgate, West Lothian, was sentenced at Edinburgh Sheriff Court.
He pled guilty to failing to provide a suitable diet and adequate veterinary care for his dogs Mitzi, Sugar and Kane.
The dogs were left to sit in their own faeces and one was so thin her bones could be seen protruding through her skin.
Scottish SPCA Inspector Jenni Surgeon said: "On entering the property, I discovered a Staffordshire bull terrier in a cage behind the door with no access to food or water.
"She was extremely thin and her bones were protruding through her skin. The cage contained large quantities of faeces, some of which had mould, indicating the cage had not been cleaned for quite some time.
"There was a foul smell inside the property which was caused by the multiple deposits of faeces throughout the house. The property was very unhygienic which put the animals at risk of injury, disease and illness."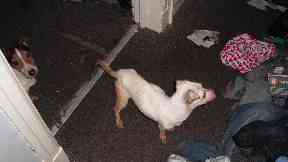 Dobbie will also not be able to leave his house between 7pm and 7am for five months after being issued with a curfew.
Surgeon added: "There were two extremely underweight Jack Russell terriers roaming around the house.
"Both of which had staining to their legs and lower abdomen which has most probably been caused by the pair lying in their own urine and faeces.
"We welcome the fact that Dobbie has been dealt with by the court and the sentence handed down. We hope he will give serious consideration about his suitability to care for other animals in the future.
"Thankfully, the dogs have now received the proper treatment and have made a full recovery."