Bid to block burial of couple kept in morgue for 15 years
Hilda and Eugenios Marcel's son Melyvn loses legal battle to halt their funerals.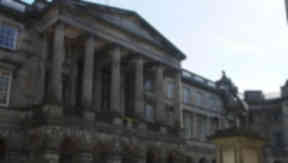 The son of a couple whose bodies have spent almost 15 years in a mortuary has lost a legal bid to stop their funerals.
Melvyn Marcel urged appeal judges at the Court of Session to stop Edinburgh City Council from disposing of the remains of his late mother Hilda and father Eugenios.
Mr Marcel was appealing against a decision made by Lord Mulholland at the court earlier this year.
Councillors had gained permission from the judge to arrange a burial for the couple, whose bodies were discovered in a former fishmongers in 2002.
The council argued it had a statutory duty to dispose of the bodies.
On Friday, Mr Marcel - who wanted to build a fridge in his home to place the bodies in until he builds a mausoleum in the property - told the court Lord Mulholland's decision was wrong.
He planned to eventually take his parents' bodies to be buried in the West Bank in Gaza in the Middle East.
Mr Marcel told judges Lord Carloway, Lord Brodie and Lady Clark of Calton: "I'm fighting for justice but nobody's helping me."
The bodies of the couple have been kept at Edinburgh City Council's Cowgate morgue since police found them in the basement of a former fishmongers in Polwarth in 2002.
Mrs Marcel had died in 1987 from lung cancer while her husband passed away from prostrate cancer aged 91 in 1994.
Their bodies were embalmed and a relative regularly visited them at the premises.
On Friday, Mr Marcel told the court the case had caused him considerable stress and had an adverse effect on his mental health.
He added: "It was harming my medical condition. It was harming my anxiety. It was making me worse.
"Everything was falling on top of me."
Lawyers acting for Edinburgh City Council said Lord Mulholland had acted correctly.
Giving the court's decision, Lord Carloway told the court they sided with the previous findings.
He added: "No valid defence has been established in this action. It is the court's decision to adhere to the Lord Ordinary's interlocutor."