Fresh bid for community buyout of children's hospital
The building in Edinburgh is also being eyed by developers for luxury flats.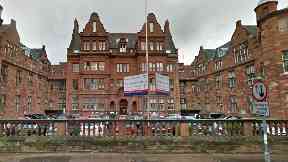 A fresh bid for a community buyout of the Royal Hospital for Sick Children in Edinburgh has been lodged.
Marchmont and Sciennes Development Trust (MSDT) wants to transform the 122-year-old site into a hub for small businesses, affordable housing and a community hall.
A new, purpose-built facility is due to replace the hospital on Sciennes Road next year.
The trust submitted an application to Scottish ministers earlier this year but land ownership issues meant the bid could not go ahead.
It is understood developers have been eyeing the site for luxury flats and NHS Lothian is in talks with potential buyers.
The previous bid was held up as the site is owned by two separate legal entities, NHS Lothian and its charitable trust, Edinburgh and Lothians Health Foundation.
SDT has now resubmitted its bid to cover both bodies, meaning the sale process has been paused.
Scottish ministers will decide whether they should be given first refusal over the hospital building.
Nathan Bower-Bir, spokesman for MSDT, said: "We are delighted to get our revised application submitted and are confident the Scottish Government will see the merits of letting the community take control of the Sick Kids when the NHS moves out.
"The past few weeks have involved an intense effort from our unpaid volunteers to try and clear up complex land ownership issues, but we have been sustained by the growing support for the bid from across the community.
"Our application sets out the exciting opportunities that the Sick Kids presents for the local community through urban community right to buy laws.
"The only way to ensure a community-led development focused on issues directly relevant to the people living in Marchmont and Sciennes is for our applications to be approved."
NHS Lothian deputy chief executive Jim Crombie added: "The Marchmont and Sciennes Development Trust contacted us earlier this year with a request for further information for their application, which we provided.
"We are currently submitting a response to Scottish Ministers in respect of their two applications."