Queen to officially open new bridge across the Forth
The Queensferry Crossing will get the royal seal of approval on September 4.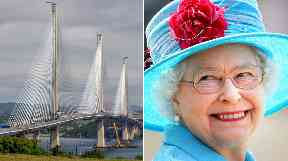 The new £1.35bn Queensferry Crossing will be officially opened by the Queen on September 4.
The ceremony will be held 53 years to the day since the monarch opened the nearby Forth Road Bridge.
It will include a welcome address by the First Minister and a blessing by the moderator of the General Assembly of the Church of Scotland.
A specially commissioned poem will be read by Scotland's poet and there will be performances by Scottish musicians.
Nicola Sturgeon said: "It is very fitting that the Queensferry Crossing will be officially opened by the Queen.
"Importantly, this celebratory event will recognise the thousands of people who have been involved in the construction of the new bridge.
"The Queensferry Crossing is a symbol of a confident, forward-looking Scotland and - as well as providing a vital transport connection for many years to come - it is a truly iconic structure and a feat of modern engineering."
Malcolm Roughead, chief executive of tourism agency VisitScotland, said: "Scotland will celebrate a moment in history on September 4 as the Queensferry Crossing is officially opened by the Queen.
"At this unique moment, the country will become the world's first destination to have three bridges spanning three centuries in one stunning location.
"It is a time to not only celebrate Scotland as a nation of pioneering innovation, design and engineering but also give thanks all those who have worked tirelessly to create this unique new structure."