Motorcyclist caught travelling at 124mph on 50mph road
A 48-year-old man has been reported over the incident on the A1 in Edinburgh.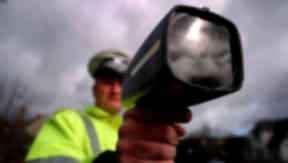 A motorcyclist was caught travelling at 124mph in a 50mph area, according to police.
The high-performance vehicle was spotted on the A1 at Newcraighall in Edinburgh on Monday at about 8pm.
A 48-year-old man has been reported to the procurator fiscal over the incident.
Police say they will be using unmarked cars and motorcycles as part of a new safety crackdown in the area.
Road policing inspector Roger Park said: "Motorcyclists and the wider motoring public alike should be aware of our ongoing motorcycle safety campaign.
"The campaign focuses on the safety of these vulnerable road users throughout the summer and autumn to engage, educate and enforce.
"We will be using marked and unmarked cars and motorcycles, in partnership with our Safety Camera Unit."
He added: "Our aim is to encourage and promote safety on our roads in an effort to reduce collisions and casualties.
"I would encourage anyone who does witness dangerous or irresponsible driving or riding behaviour to get in touch and report the matter to officers."