Glazers CR Smith revealed as new Edinburgh Trams sponsor
The firm will wrap adverts around the fleet in a deal worth £1.3m a year.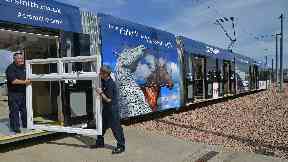 Glazing company CR Smith has been revealed as the sponsor of the Edinburgh tram line.
The firm will wrap their adverts on 18 of the 27 trams in a deal worth around £1.3m per year.
Each tram will feature bespoke, individual artwork, with the first two designs being revealed on Wednesday morning.
It follow's Tuesday's announcement that the tram line could be extended to Newhaven via Leith Walk, potentially opening to passengers in 2022.
The new advertising deal was struck by Marketing Edinburgh, Transport for Edinburgh and Edinburgh Trams.
George Lowder, chief executive of Transport for Edinburgh, said: "This is a fantastic example of what partnership working between some of the cities' companies can achieve.
"It has been a great experience working with Marketing Edinburgh to secure CR Smith's sponsorship.
"We look forward to a long commercial relationship with CR Smith and others who wish to advertise on Edinburgh's trams.
"We have been using the trams since the start of the year to showcase some of the cities' key events including rugby at Murrayfield, The Royal Highland Show and The International Festival.
"We look forward to wrapping the entire fleet."
On Tuesday, Edinburgh City Council revealed it would undertake further work to consider the feasibility of the Newhaven line.
The £165m proposal would extend the tram line down Leith Walk from its current terminus at York Place.
A final decision on the plan is expected to be made in 2018 if the business case is approved.
Following a three-year construction period, passengers could to be on the trams to Newhaven via Ocean Terminal in the first half of 2022.