Man charged with murdering Scots sled guide in Lapland
Rebecca Johnson was allegedly stabbed to death at a Christmas resort in Finland last year.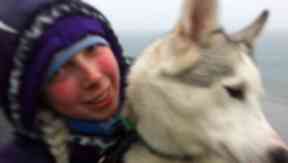 A man has been charged with murder following the death of a Scottish woman at a Christmas resort in Lapland.
Rebecca Johnson was allegedly stabbed to death in the village of Kuttanen in the far north of Finland on December 3.
The 26-year-old from Fife worked as a dog sled guide for tour operator Santa Safari.
Following her death Ms Johnson's boyfriend Radek Kovac allegedly fled on a dogsled and was apprehended by police in -30C temperatures.
It followed a wide-scale search on Finland's north-western border with Sweden.
The police's eight-month long inquiry centred on Mr Kovac, a 36-year-old Czech national who has been held in a Finnish jail since December.
A court hearing is due to take place at Lapland District Court in Rovaniemi on August 23 and 24.
Wednesday was the final day charges could be brought and under the Finnish legal system court documents will remain sealed until the first hearing.