Prince Charles to be guest of honour at Edinburgh Tattoo
The Duke of Rothesay will attend the event for the first time with son Prince William.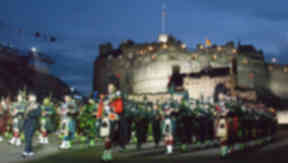 Prince Charles and Prince William are to attend the Royal Edinburgh Military Tattoo at Edinburgh Castle.
The Duke of Rothesay will be the guest of honour at the Tattoo, which this year has the dual theme of the Year of the Aircraft Carrier to mark the launch of HMS Prince of Wales.
In addition to attending the Tattoo at Edinburgh Castle, the princes will view a short pre-Tattoo performance on the forecourt at Holyrood Palace.
This will be the first time their Royal Highnesses have attended the Royal Edinburgh Military Tattoo.
The Tattoo will be celebrating Scotland's Year of History, Heritage and Archaeology in hosting over 3,000 clansmen and women from 57 clans across the 25 performances.
Each contingent (two or three each evening) will march down from the Great Hall of the Castle behind their own pipers and standards to parade, and greet the Salute Taker before the start of each show.
The programme will pay rich tribute to the UK's maritime heritage and the Royal Navy in this special year, with HMS Queen Elizabeth now on sea trials and HMS Prince of Wales in build.
Major contingents from France, India and the United States will complete the glittering line-up.