Edinburgh to London hyperloop train 'to take 50 minutes'
Virgin is testing new technology for a 700mph electromagnetic train between the cities.
Richard Branson is testing technology for a "hyperloop" train he says could reduce journey times between Edinburgh and London to 50 minutes.
The Virgin tycoon revealed he has invested in a company called Hyperloop One, which is developing the technology at a site outside Las Vegas.
Hyperloop trains work by loading passengers and cargo on to a pod which is accelerated to speeds of almost 700mph inside a sealed low-pressure tube using electric propulsion.
The pod floats above the surface of the tube using electromagnets and is gradually accelerated to speeds typically reached by an airliner.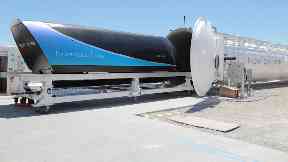 The technology is going through trials on a 500-metre test track and the company, now known as Virgin Hyperloop One, hopes to make it commercially viable.
In a post on his website, Branson said he aimed to turn it into a "global passenger service" which could complete the 332-mile journey between the Scottish and UK capitals, via Manchester, in under an hour.
He said: "Projected journey times in the UK include Edinburgh to London in 50 minutes."
Previous estimates for hyperloop journey times include a 338-mile route between Glasgow, Edinburgh and Liverpool in 38 minutes.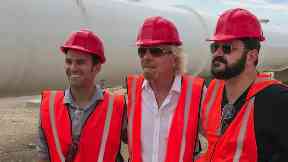 The hyperloop tube is 3.3 metres wide and the pod inside can accelerate from 0 to 60mph in 1.85 seconds.
Branson said: "Ever since our creation, Virgin has been known for disruption and investing in innovative companies.
"From our airlines to our trains to our spaceline, we have long been passionate about innovation in transport, too, especially the development of technology that could transform people's lives.
"This is just the latest example. Importantly, Virgin Hyperloop One will be all-electric and the team is working on ensuing it is a responsible and sustainable form of transport, too."
Branson said the company was working on "exciting projects" around the world but no lines have been confirmed as yet.
Download: The STV News app is Scotland's favourite and is available for iPhone from the App store and for Android from Google Play. Download it today and continue to enjoy STV News wherever you are.