Mother in child cancer awareness fight after loss of son
Pamela Neilson's son Kai was diagnosed with an aggressive form of leukaemia as a baby.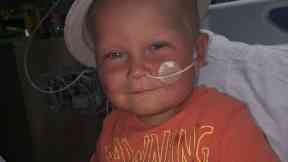 A mother who lost her three-year-old son to cancer is campaigning to raise awareness of the dangers of giving children adult treatments.
Pamela Neilson lost her son Kai to acute lymphoblastic leukaemia (ALL) just days after his third birthday.
Kai was a happy, healthy baby, winning everyone over with his big smiles but he became ill when he was just eight months old.
Concerned, his parents Pamela and Calvin got in touch with NHS 24. They were told it was likely a flu and advised plenty of fluids, steam and calpol.
After a few days, however, Kai had become pale and lifeless.
On September 13, 2013, his parents took him to their local GP who referred them to the Royal Hospital for Sick Children in Edinburgh.
They arrived at 10am and were met by an army of staff and medical equipment.
It was then they knew the situation was very serious.
Ms Neilson clearly remembers the moment they were told about the cancer.
"Suddenly there was an eerie silence", she said.
"Two doctors came into the room and said they were from the haematology and oncology department.
"That's when they told us Kai had leukaemia. In just three hours our world had been devastated and our lives would never be the same again."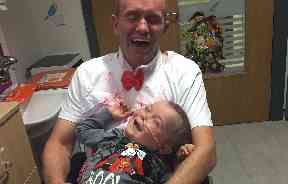 Kai was taken to the intensive care unit and his parents were warned he would probably not last the weekend.
He fought against his cancer, however, and six days later he was moved to ward two to begin his treatment.
ALL is a rare and very aggressive form of cancer, affecting just two children under one per year in the UK.
The family received another blow when it was discovered the leukaemia had moved into Kai's left eye.
The decision was made to remove the eye as the cancer was too close to the brain to be safely treated with chemotherapy.
Kai spent almost his whole first year of treatment in a hospital ward - he said his first word and took his first steps in the sick children's unit, spending his first birthday and Christmas on the ward as well.
Towards the end of 2014, the family finally had some good news that Kai was allowed to live at home.
He still had daily check-ups and treatment to go to but he was beginning to enjoy a relatively normal life outside the hospital.
It was brief respite, however, as in March 2015, his family were given devastating news Kai's cancer had returned.
The cancer was now in more than 50% of his bone marrow and was more aggressive than ever.
The doctors gently suggested his family do as much with him as they could now and focus on making memories, as his options were very limited.
Chemotherapy was no longer suitable as treatment and he would need a bone marrow transplant to survive.
The family decided to try a transplant and in June 2015, Kai received one at the Royal Hospital for Children in Glasgow, but the treatment had failed - Kai's cancer was now terminal.
Not ones to give up, the family gave the go ahead to trial a new drug from America, but it failed too.
The doctors enrolled Kai in an experimental treatment in London but he was too sick to go.
Kai died on January 18, 2016, just a few days after his third birthday.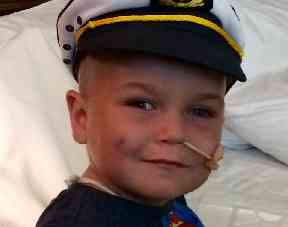 Now his parents are campaigning to get more research dedicated to childhood cancers.
Glow Gold is a national campaign that is aimed at raising awareness as to how little research goes into children's cancer.
According to Cancer Research UK, just 1.4% of their annual spending of £452m goes into children's research.
Ms Neilson thinks this needs to be changed.
"Our children - Kai too - are being given adult drugs which leave the majority of kids with dreadful side-effects," she said.
"Symptoms have included loss of hearing, muscle damage which leaves children wheelchair bound and even serious brain damage."
Research the mother has carried out shows more than 1700 children are diagnosed with cancer each year and more than 250 die from the cancer or the treatment.
Glow Gold aims to raise awareness of childhood cancer, while engaging the community to promote more research.
A Cancer Research UK spokeswoman said: "At Cancer Research UK we passionately believe more needs to be done to help children with cancer but, unfortunately, it's not as simple as allocating more money to spend in this area.
"The amount we spend in each area depends on how many high quality research proposals we receive from scientists.
"Sadly, we don't receive as many research proposals for work into children's cancers as we do for other types of cancer, partly because there are fewer researchers working in this area and partly because children's cancers are relatively rare compared to other cancers."
She added: "We desperately want to accelerate progress in children's cancer research and in order to do this we need to see an increase in the number of high quality research proposals we receive.
"We're actively working with the research community and leading on a new collaboration with children's cancer specialists around the country with a specific objective to understand the causes of children's cancers, and develop kinder treatments."
Find out more about Glow Gold here.
Download: The STV News app is Scotland's favourite and is available for iPhone from the App store and for Android from Google Play. Download it today and continue to enjoy STV News wherever you are.